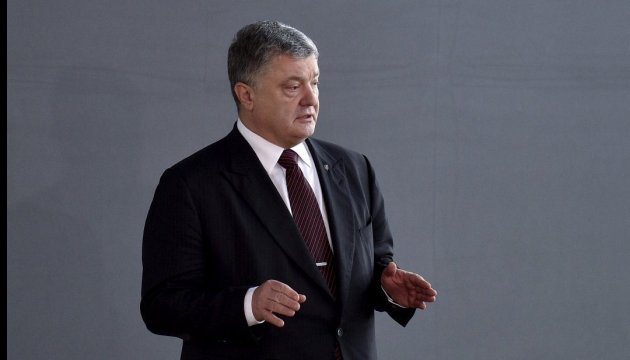 Poroshenko sees Skripal's poisoning as Russia's attack on Britain's sovereignty
Ukrainian President Petro Poroshenko has said he is convinced that the incident with the poisoning of former Russian intelligence officer Sergei Skripal is an attack by Russia on the sovereignty of the United Kingdom.
He stated this while introducing Commander of the Joint Forces Serhiy Nayev to servicemen in Luhansk region on Friday, March 16, an Ukrinform correspondent reports.
"Not everyone immediately heard Ukraine and Ukrainians in March and April 2014 when we all warned that through the southern and eastern borders of Ukraine the hybrid aggression of Russia would begin against the whole of Europe and, eventually, against the whole world. Now the Kremlin's chemical attack in Britain is a shocking example of the use of a Russian nerve agent in the territory of another state, and this is nothing more than an attack on the sovereignty of the United Kingdom," Poroshenko said.
He also stated the full and unconditional solidarity of the Ukrainian people with the people of the United Kingdom and emphasized that he shared the position expressed in a joint statement by the leaders of the United States, Britain, France and Germany.
On March 5, the police in the British city of Salisbury said that two people had been seriously affected by an unidentified hazardous substance near one of the city's shopping centers. Subsequently, it turned out that they were former Russian intelligence officer Sergei Skripal, who worked for British intelligence, and his daughter, Yulia. They are now in critical condition.
Britain said later that Skripal and his daughter had been were poisoned with Novichok, a military grade nerve agent that was developed in Russia.
On March 15, the leaders of Britain, Germany, the United States and France called on Moscow to answer the questions raised in the Skripal case and to provide all the information regarding the Novichok program to the Organization for the Prohibition of Chemical Weapons.
op