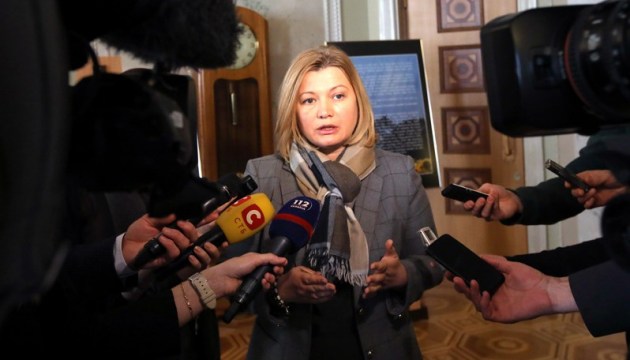 Kyiv ready to exchange over 20 militants for Ukrainian political prisoners
The Ukrainian side is ready to exchange more than 20 Russians detained in Donbas for Ukrainian political prisoners who are held Russia, First Deputy Chairwoman of the Verkhovna Rada Iryna Gerashchenko has said.
"Regarding the issue of the release of hostages, the Ukrainian side once again reminded Russian participants of the group that more than 20 Russians, who Russia says are not there, were detained and convicted in Donbas. We are ready to transfer them to Russia in exchange for the release of the Kremlin's hostages who are held in Russian prisons, and we stand for the intensification of this process. We are also ready for all sound compromises for the sake of the release of our military and civilians from prisons in occupied territories," she wrote on her Facebook page on Thursday.
At the same time, Gerashchenko expressed regret that no progress had been made on this issue.
As Ukrinform reported, according to the Ukrainian Justice Ministry, 64 Ukrainian citizens were political prisoners of the Kremlin as of February 26.
On March 2, Gerashchenko said that she had appealed to the Russian leadership with the call to take away its citizens who were sent to fight against Ukraine and to release Ukrainian hostages.
op