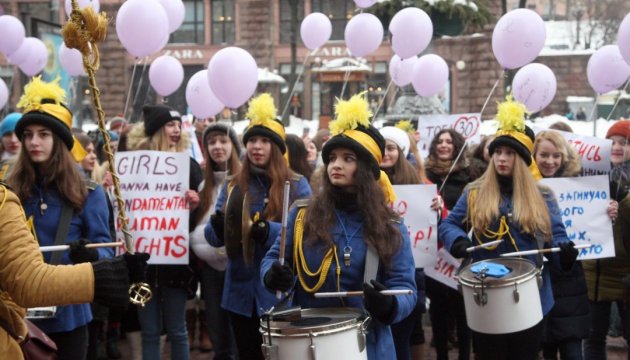 March of 'real national wives' held in central Kyiv
An event titled "Oh My March!" dedicated to International Women's Day took place in the center of Kyiv on March 8, an Ukrinform correspondent reports.
About 200 participants in the march walked from Independence Square along Khreshchatyk and Bohdana Khmelnytskoho Street to the Golden Gate. They were holding posters with the inscriptions "Let's wash the dishes together," "Let's bring up children together," "To have a choice," "To have a right," "To have freedom," "Not to be afraid of walking in dark streets," "My body is my business," "My eyes are higher!" "Violence is not a tradition," "Do not lay a hand on a woman," "It's women time."
According to organizers from the Maty (Mother) women's organization, the purpose of the march is to show that Ukraine has strong, modern women who are themselves responsible for their lives and need equal rights and respect, rather than "special protection" from men.
"We all have recently watched a march of national wives. It was an anxious and technological event. It was then that the organizers of the women's march decided to show 'true national wives.' We're not talking about housewives. We're talking about specialists, top managers, businesswomen, deputies, lawyers, and human rights defenders - about a new generation of 'wives' who, while taking responsibility for themselves, remain no less feminine as models from podiums," the organizers said.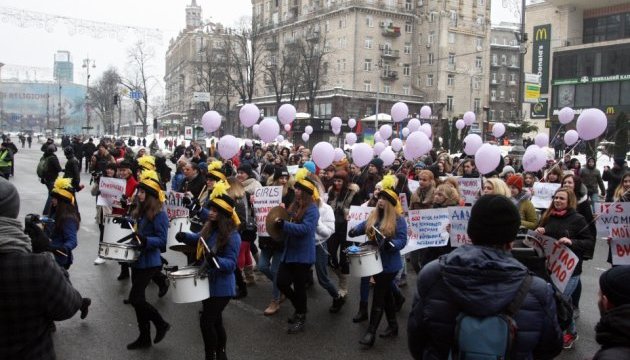 op