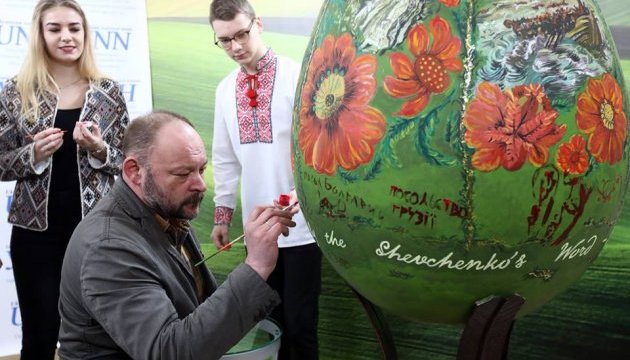 Foreign diplomats paint traditional Ukrainian Easter egg to honor poet Shevchenko. Photos
Heads and representatives of foreign embassies in Ukraine have painted a traditional Ukrainian Easter egg pysanka to honor prominent Ukrainian poet and artist Taras Shevchenko. The egg will be presented at the Pysankas Festival on the Sofiyska Square in Kyiv.
As an Ukrinform correspondent reports, the event was held at the Kyiv National University of Culture and Arts.
It is noted that the diplomats from Bulgaria, Palestine, Georgia, Slovenia and Kazakhstan, as well as the officials of the Kyiv Regional State Administration and the director of the Taras Shevchenko National Museum wrote the words dedicated to the renowned Ukrainian poet on the pysanka.
Ambassador of Bulgaria to Ukraine Krasimir Minchev said that he had been working in Ukraine for the sixth year and annually took part in the events dedicated to the poet.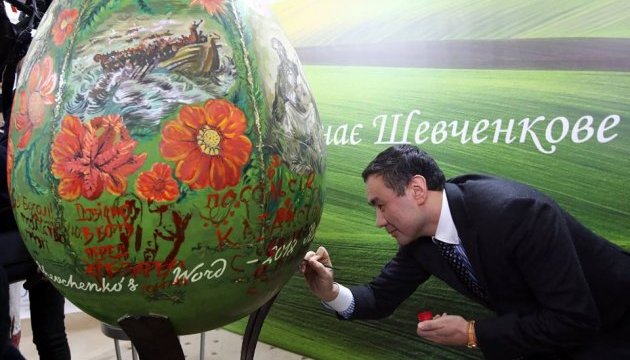 "Taras Shevchenko brings everyone, who knows him and reads his poems, the faith in the future, the faith that his nation, his Ukraine, is indestructible," the diplomat stressed.
The video flash mob dedicated to one of the most famous Shevchenko's poems, Zapovit (Last Will), was also presented during the event. In the video, filmed at the Taras Shevchenko National Museum, poem Zapovit is recited in Polish, Georgian, English, Bulgarian, French, Ukrainian and Romanian by the heads and representatives of the embassies of Poland, Georgia, Bulgaria, Moldova, Pakistan, Kazakhstan and the President of the African Council in Ukraine.
ol