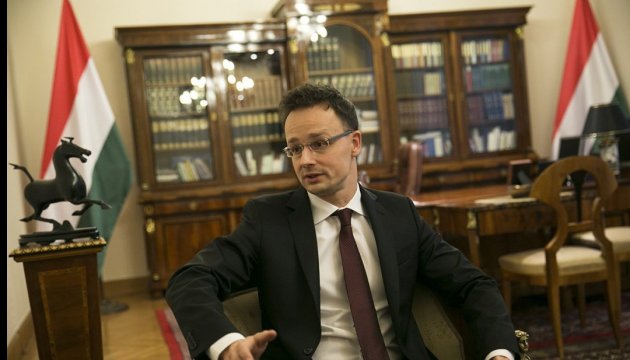 Hungary blames Ukraine for 'brutal attack' against national minorities
A "brutal attack" has been launched against national minorities in Ukraine, as evidenced by the decision of the Constitutional Court of Ukraine regarding unconstitutionality of the law on the principles of the state language policy.
Hungarian Minister of Foreign Affairs and Trade Peter Szijjarto stated this in Budapest on Thursday, March 1, Radio Liberty reports.
"The Ukrainian government has set itself two nationalistic tasks - first: that the national minorities could not study, the second: that they could not speak their native language," he said.
In his opinion, the signs that the national minorities "have indeed been targeted" are events around the "language law," as well as attacks against the headquarters of the Transcarpathian Hungarian Cultural Association.
"[They are] repealing the Language Act that gave minorities the right to use their own native language. What is happening in Ukraine could not happen in a country that is governed by the rule of law," Szijjarto said.
He stated that until now, the lower limit for the use of native languages by minorities was 10 percent of the population. "According to current plans the new limit will be 33 percent," he said.
In addition, Szijjarto reaffirmed that his country "will not be supporting Ukraine's Euro-Atlantic integration aspirations until the rights of minorities are duly restored."
Hungary has already blocked the holding of a meeting of the NATO-Ukraine Commission at the ministerial level for the second time because of claims to the language article of the Ukrainian law on education.
Budapest alleges that the language article of the education law in Ukraine violates the rights of the Hungarian minority. Kyiv denies these allegations.
op