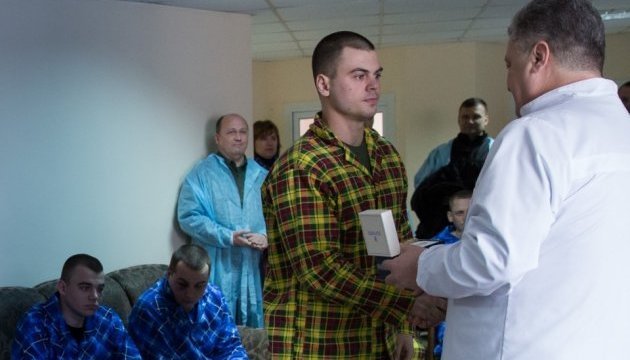 President visits police officers injured in clashes near parliament
Ukrainian President Petro Poroshenko has visited the central hospital of the Ukrainian Interior Ministry to meet with law enforcers who were injured in clashes outside the building of the Verkhovna Rada on February 27, the press service of the head of state has reported.
"Today I decided to start the day with a meeting with you and with the words of great gratitude for extremely important work that the units of the National Police and the National Guard are doing to ensure peace, calm, stability and order in Kyiv and throughout Ukraine," Poroshenko said.
At the same time, he said that an attack on a police officer around the world is a serious criminal offense. He called on law enforcement officials to take control of the investigation into attacks on police officers and National Guard servicemen.
Poroshenko also said that he, the government, the leadership of the National Police and the command of the National Guard would support employees of the respective units.
He asked about the health of injured and wounded law enforcers, the amount of medical care they get, and thanked the medical staff of the hospital for the provision of medical care and treatment of National Guard servicemen and police officers.
As reported, about a hundred pensioners and other participants held a protest rally outside the building of the Ukrainian parliament on Tuesday, February 27. The protesters hurled Molotov cocktails and wooden stakes at law enforcement officers. The latter, in turn, pushed the protesters back.
Fourteen law enforcement officers were injured, and nine people were detained.
op