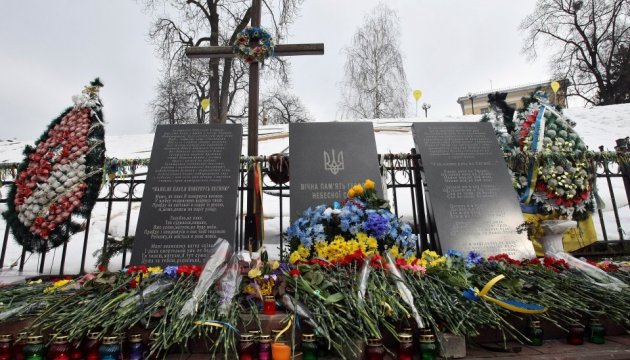 Ukrainian diaspora pays tribute to memory of Heavenly Hundred Heroes
Today, February 20, the Ukrainian diaspora pays tribute to the memory of the Heroes of the Heavenly Hundred.
This has been reported on the website of the Ukrainian World Congress.
"On February 20, 2018, Ukrainians worldwide mark the fourth anniversary of the tragic events on Kyiv's Independence Square that brutally and mercilessly cut short the lives of the women and men who, with their heroism, thrust Ukraine into the international spotlight ensuring that the Ukrainian people would not stand alone in the fight for the democratic values, fundamental rights and principles that define Western civilization," the statement reads.
"Today we continue to witness the evolution of a new Ukraine in which fundamental human rights are respected and rule of law prevails; a new Ukraine that is reforming, modernizing and combatting corruption," the report says.
Sadly, however, the hybrid war of the Russian Federation against Ukraine continues to claim the lives of brave soldiers and innocent civilians alike on an almost daily basis, and a rampant disinformation campaign aims to discredit Ukraine and its people.
"May the sacrifices of the Heavenly Hundred Heroes, the Heroes of the Revolution of Dignity and the brave defenders of Ukraine who keep the Russian Federation from moving westward on European soil serve as a constant reminder of the fragility of peace and security, and the importance of remaining resolute in securing the withdrawal of foreign troops from Ukraine, including the de-occupation of Crimea, " the UWC stressed.
"On this anniversary, the Ukrainian World Congress expresses gratitude to the international community for its increasing and steadfast support for Ukraine deeming it a tribute to the memory and victory of the Heroes and participants of the Revolution of Dignity, particularly the Heavenly Hundred Heroes," UWC President Eugene Czolij stated.