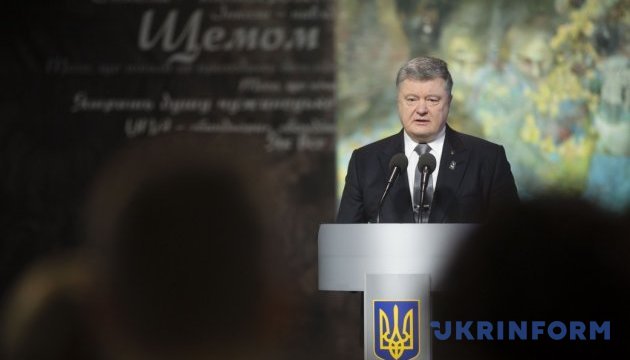 President Poroshenko: Crimes against the Maidan do not have statute of limitations
The crimes against Maidan do not have the statute of limitations.
President of Ukraine Petro Poroshenko said this at the opening of the exhibition to commemorate the Heroes of the Heavenly Hundred "Lead Me Through the Maidan", an Ukrinform correspondent reported.
"I share the discontent of the society with the pace of investigation, and even more - the speed of trials. In four years they should have done more. At the same time, I am well aware of the scale of the crime, as well as the need for a legally sound evidence base and strict adherence to all procedural rules. Evil must be punished. That is why, for the first time in Ukrainian history, I decided to take part in the trial. It is unprecedented when the President personally does it, but this is the case of each of us. It is necessary to go through a procedurally complex path, so that the murderers would not have any chances in European courts. I emphasize that the crimes against Maidan do not have the statute of limitations," the President said.
He appealed to Prosecutor General Yuri Lutsenko with a request to analyze what organizational assistance should be provided to the Department of Special Investigations of the Prosecutor General's Office to improve the effectiveness of the investigation into the "Maidan cases."
ol