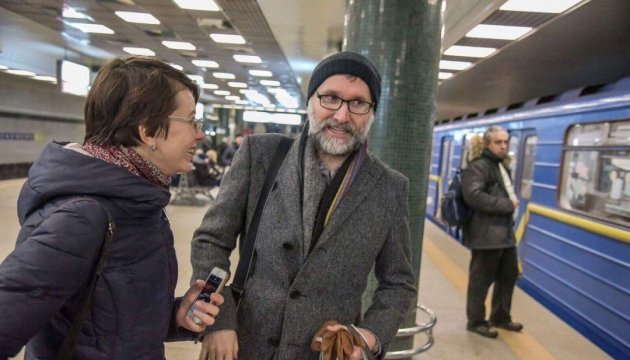 British composer Michael Price rides Kyiv city subway
Emmy award-winning composer Michael Price, who created the score to the BBC hit drama Sherlock, has been spotted riding in the Kyiv city subway.
"Meet Michael Price, he wrote the music for Sherlock," reads the tweet on the official Kyiv subway account.
As noted, Price came to Kyiv for the first time to give lectures for film composers. "He rides subway and assures it's quicker than a taxi," the Kyiv subway press service says.
Michael Price is one of the most sought-after composers of the United Kingdom. He won an Emmy award with David Arnold for the music for the BBC TV series Sherlock. Prior to work as a composer, Michael worked as a music editor with films including Peter Jackson's The Lord of the Rings trilogy, Richard Curtis' Love Actually, Bridget Jones: The Edge Of Reason and Nanny McPhee. As a music editor, Michael has been nominated for 4 MPSE Golden Reel Awards, winning in 2001 for The Fellowship of the Ring.
ol