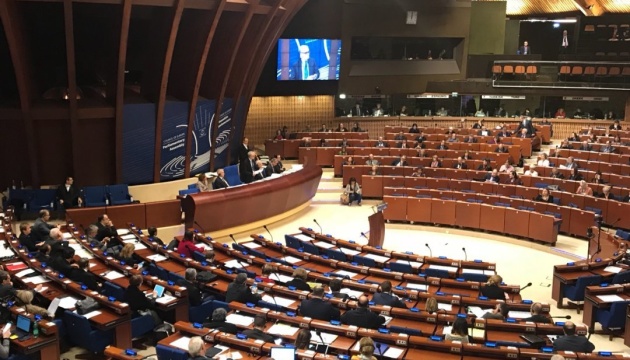 PACE publishes report on Ukraine
The Parliamentary Assembly of the Council of Europe (PACE) welcomes the reform program in Ukraine, but at the same time recommends that the country fulfill the Venice Commission's recommendations on the education law and speed up the process of combating corruption in order to obtain tangible results.
This is stated in an annual report of the PACE Monitoring Committee, which was published by the PACE on Thursday, January 25, an Ukrinform correspondent reports.
"The Assembly welcomes the positive developments and the progress made during the reporting period in a number of countries under a monitoring procedure or engaged in a post-monitoring dialogue. In particular, in Ukraine: the ambitious reform program put in place after the 'Revolution of Dignity' despite the challenging environment as a result of the Russian aggression in eastern Ukraine and the illegal annexation of Crimea," reads the document.
At the same time, the PACE expressed concern about the hardening of political discourse following the Euromaidan events and the Russian aggression in eastern Ukraine, and the polarization of the media environment, leading to unacceptable attacks on journalists and media outlets; the insufficient balance between the official language and the languages of national minorities in the new law on education in Ukraine, leading to a reduction in rights in comparison to previous legislation; and the pervasive corruption that undermines public trust in the political and judicial system as a whole.
"The Assembly urges the Ukrainian authorities to fully implement the recommendations of the Venice Commission in its opinion on the new Law on Education; to increase the pace of the reforms to fight the pervasive corruption in the country and to ensure that these reforms lead to tangible and concrete results," reads the document.
Speaking after the hearing of the report, PACE Vice President Volodymyr Ariev emphasized that last year Ukraine fulfilled an unprecedented number of decisions of the European Court of Human Rights and is implementing large-scale reforms, despite the war in eastern Ukraine and annexation of Crimea. He also urged the PACE to be careful about signals being sent to Russia.
"We can send an incorrect signal to Russia. They may think that we are not reacting to annexation of Crimea and aggression in eastern Ukraine... I hope we will show wisdom and will not help realize the steps that the Russian Federation wants to take," Ariev said.
op