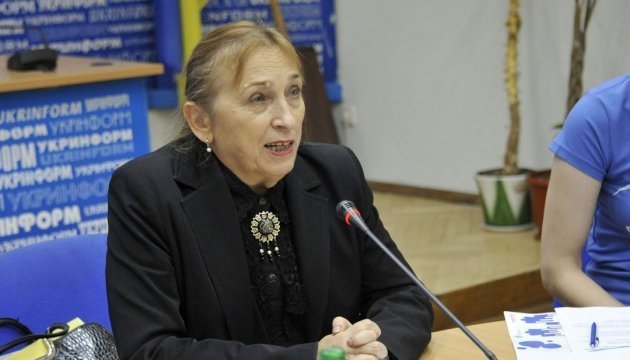 Tymoshenko, Poroshenko top presidential rating
The leaders of the Batkivshchyna and Solidarity parties currently top the rating of presidential candidates, although Ukrainians are ready to vote for another candidate.
Director of the Ilko Kucheriv Democratic Initiatives Foundation, Senior Researcher at the Institute of Sociology of the National Academy of Sciences of Ukraine Iryna Bekeshkina said this at a press conference on Tuesday, referring to the results of a survey.
"With regard to the ratings of presidential leaders, there is a slight sensation here. The first place in the presidential rating is occupied by 'another politician' - 15.9%. That is, there's a need for a different politician. This is evident from our polls," Bekeshkina said.
At the same time, she noted that there are no special changes regarding the presidential ratings.
"Yulia Tymoshenko is in the first place with 12.1% (if the presidential elections were held in December 2017), and Petro Poroshenko is second (10.2%). So far, according to our results, they are two possible finalists. However, there are many people who are undecided (19%), and there is still a long way to the elections," the sociologist said.
According to the survey, the presidential rating also includes Anatoliy Hrytsenko (8%), Vadym Rabinovych (8%), Oleh Liashko (5%), Yuriy Boiko (5%), and Andriy Sadovy (5%).
At the same time, Bekeshkina noted that Volodymyr Zelensky and Sviatoslav Vakarchuk were not included in the list, because they did not express their desire to participate in the elections.
The nationwide survey was conducted by the Ilko Kucheriv Democratic Initiatives Foundation together with the Razumkov Center's Sociological Service from December 15 to December 19, 2017 in all regions of Ukraine, except for occupied Crimea and certain areas of Donetsk and Luhansk regions. A total of 2,004 aged over 18 were interviewed. The poll's margin of error does not exceed 2.3%.
op