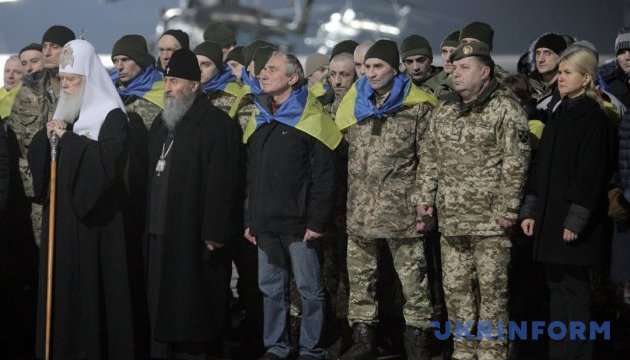 Sixty-five Ukrainians freed from occupied Donbas get medical assistance
Sixty-five Ukrainian captives freed from occupied Donbas are undergoing treatment and rehabilitation at Kyiv's military hospital and at the hospital of the State Affairs Department, according to First Deputy Speaker of the Verkhovna Rada of Ukraine Iryna Gerashchenko, Ukrinform reports.
"The heads of medical institutions informed me that to date 24 ex-hostage servicemen are undergoing medical examination and rehabilitation at a military hospital, and 41 released people (including civilians and military) are in the hospital of the State Affairs Department… Everyone will be provided with medical assistance, dental services," Gerashchenko said.
According to her, the Social Policy Ministry is also working on all technical details and in the near future the released persons will receive one-time cash assistance. "The team of psychologists led by Vadym Svyrydenko is already actively working with the released and their families," Gerashchenko added.
At the same time, she noted that the best help for the released Ukrainian captives and their families was the organization of family travel and rest. "Therefore, we can make such a dream come true," she said.
At the same time, she urged not to forget about the families of those Ukrainians who continue to be in captivity in occupied Donbas.
As reported, the exchange of detainees between Ukraine and Russian-supported forces took place in Donbas on December 27. Seventy-three Ukrainians returned home. A total of 233 people were transferred to the occupied territory.
op