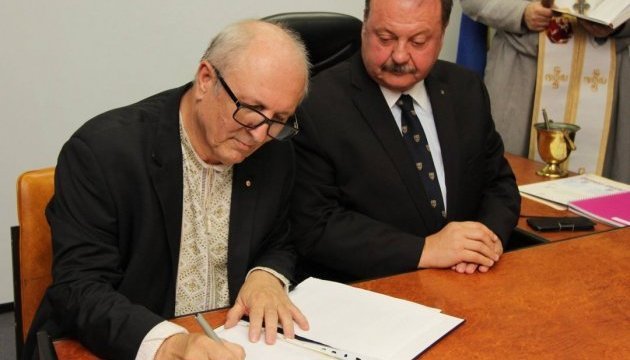 Ukraine opens honorary consulate in Sydney
The opening ceremony of Ukraine's Honorary Consulate in Sydney, the first in the history of Ukrainian-Australian relations, was held on Sunday, December 17, with the participation of representatives of the Australian authorities, Ukraine's Embassy in Australia and the leadership of Ukrainian organizations in Australia, an Ukrinform correspondent in Australia reports.
"It is noteworthy that Ukraine's Honorary Consulate in Sydney begins its work at a time when Ukraine celebrates the 100th anniversary of its diplomatic service. We sincerely congratulate the first Ukrainian Honorary Consul in Sydney and call on everyone to support the activities of the consulate," Ukrainian Ambassador to Australia Mykola Kulinich said in his welcoming speech.
Newly appointed Ukrainian Honorary Consul in Sydney Yaroslav Duma expressed gratitude for the honor given to him by Ukraine and promised to make every effort to develop effective cooperation between Australia and Ukraine in all areas.
The consulate plans to meet visitors, work with government and business delegations of the two countries, organize exhibitions devoted to various aspects of cultural, social, political and economic life of Ukraine, artistic events, etc.
One of the main tasks for the honorary consul for 2018 is to prepare for and facilitate the participation of the Ukrainian team of veteran warriors in the Invictus Games, which will be held in Sydney.
Ukraine's Honorary Consulate in Sydney will open the door to its visitors at 27-29 Church St, Lidcombe, NSW 2141.
op