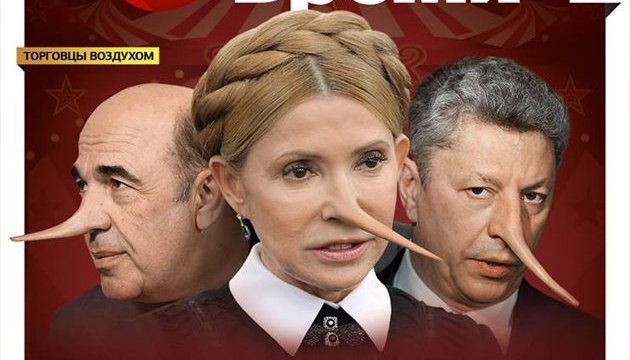 Media compile ranking of lying politicians
The Novoye Vremya weekly social and political magazine and the VoxUkraine non-profit organization have compiled a "hit parade of high-ranking liars," which is topped by Batkivshchyna Party leader Yulia Tymoshenko.
The respective results of a survey conducted by the VoxCheck project of the VoxUkraine non-profit organization were published on the magazine's website, an Ukrinform correspondent reports.
"A VoxCheck analysis showed that Batkivshchyna leader Yulia Tymoshenko tells the truth least often. She is followed in the ranking of liars by Vadym Rabinovych from the Opposition Bloc and two of his faction colleagues - Yuriy Boiko and Oleksandr Vilkul. Oleh Bereziuk from Samopomich is No. 5," the study says.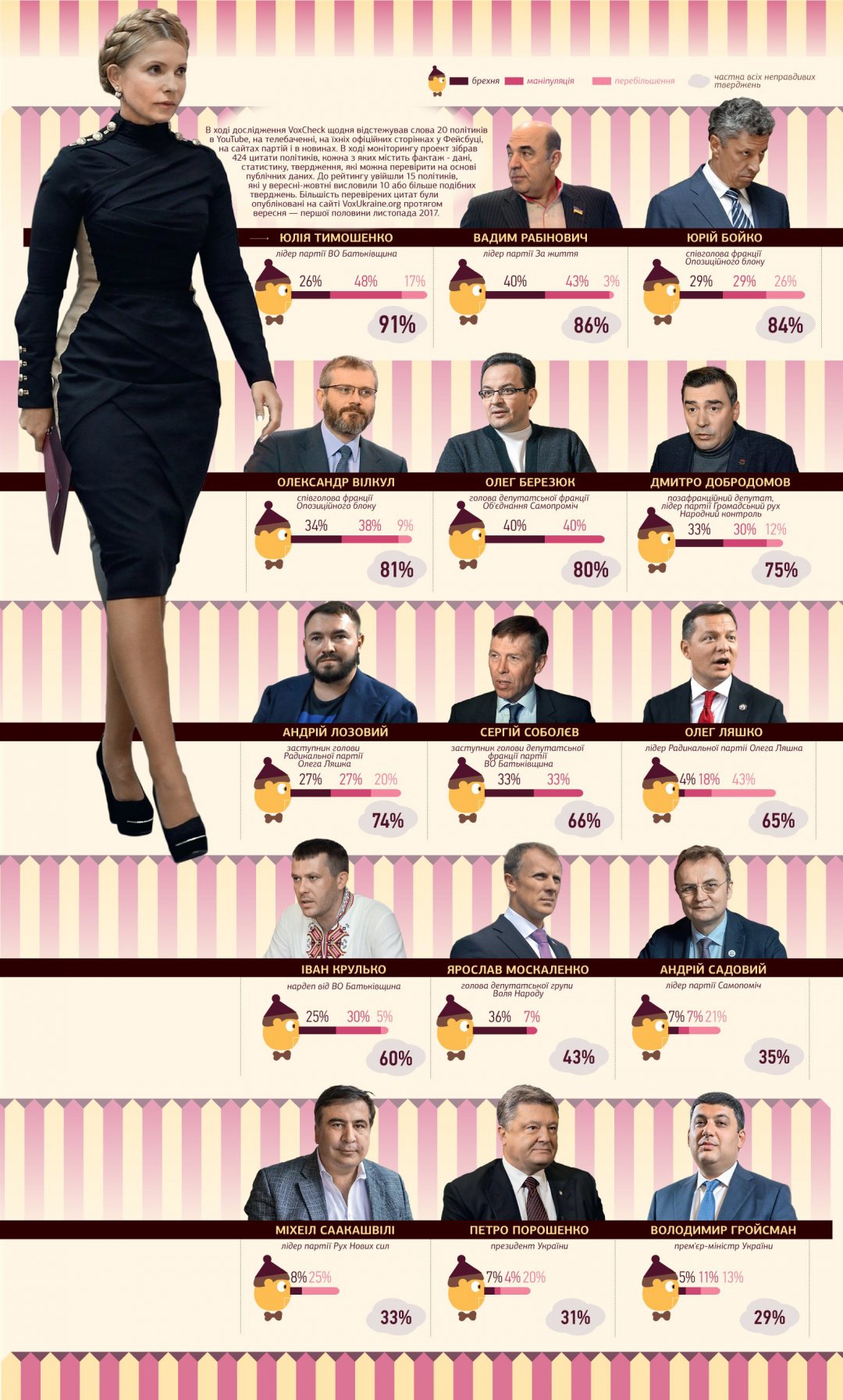 Since the beginning of the political season, that is, from September 2017, the VoxCheck fact-checking project has verified remarks by 20 top politicians in Ukraine for two months, in particular, the country's president, the prime minister, leaders and speakers of all parliamentary factions, some self-nominees, as well as key representatives of the extra-parliamentary opposition.
The analysts collected 424 citations, of which, after the checks, only over a third were really true. "That is, in two out of three cases a typical top Ukrainian politician lies in his or her public speeches, manipulates data or exaggerates," analysts said.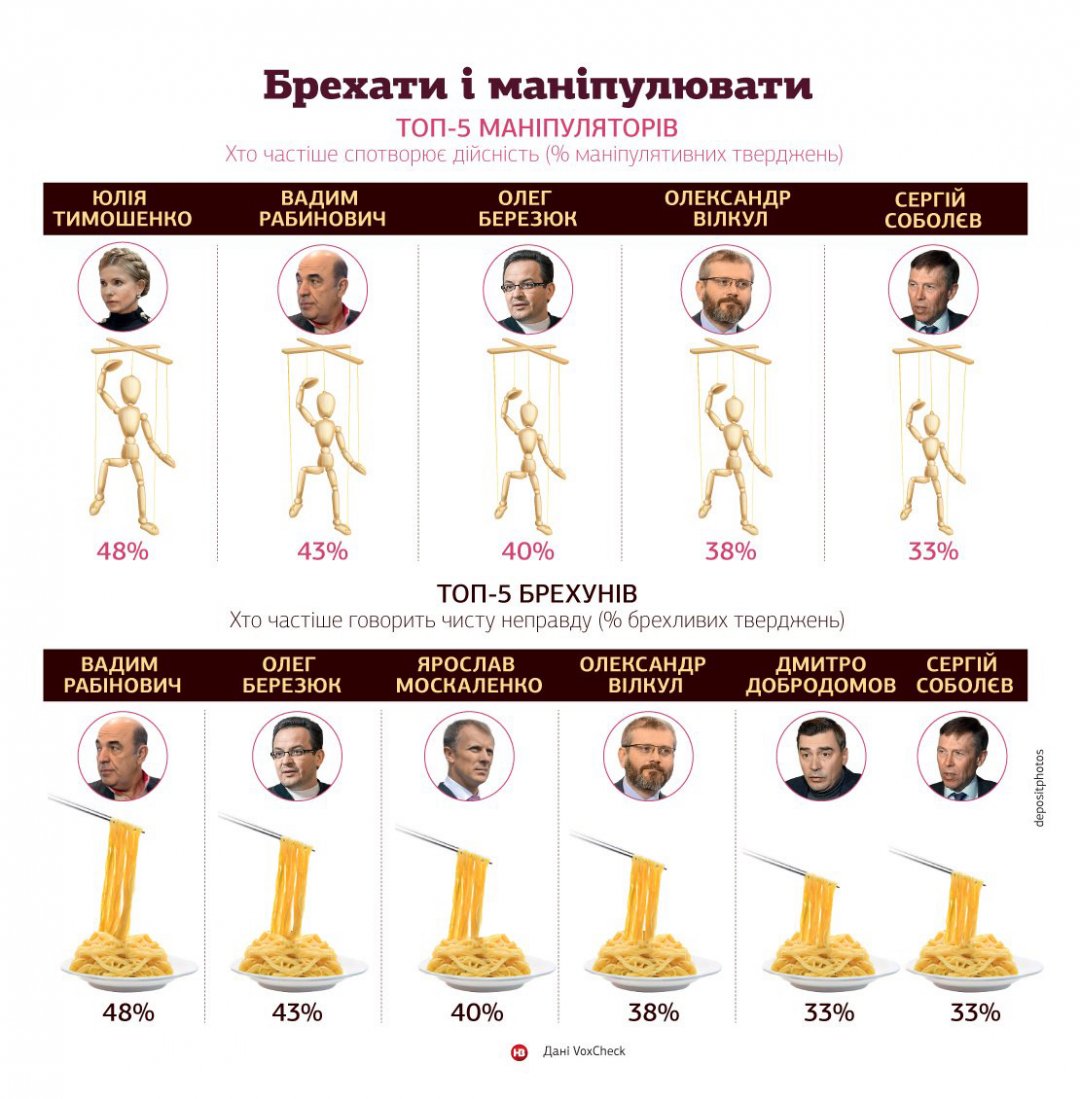 At the same time, analysts noted that it is more difficult to catch Prime Minister Volodymyr Groysman in a lie.
"It's hardest to expose Prime Minister Volodymyr Groysman in a lie. It's somewhat simpler in this regard with President Petro Poroshenko and his main enemy, Mikheil Saakashvili, 'a man without a passport.' Lviv Mayor Andriy Sadovy is also inclined to tell the truth. He is in fourth place in the list of the country's top politicians telling the truth. And in fifth place is Yaroslav Moskalenko, the leader of the Will of the People deputy group," reads the study.
It notes that Groysman, as a rule, talks about the work done by the government, describes bills initiated by the Cabinet of Ministers.
The rating of VoxCheck and Novoye Vremya includes politicians who made at least ten factual remarks over two months - that is, they publicly stated anything that can be verified.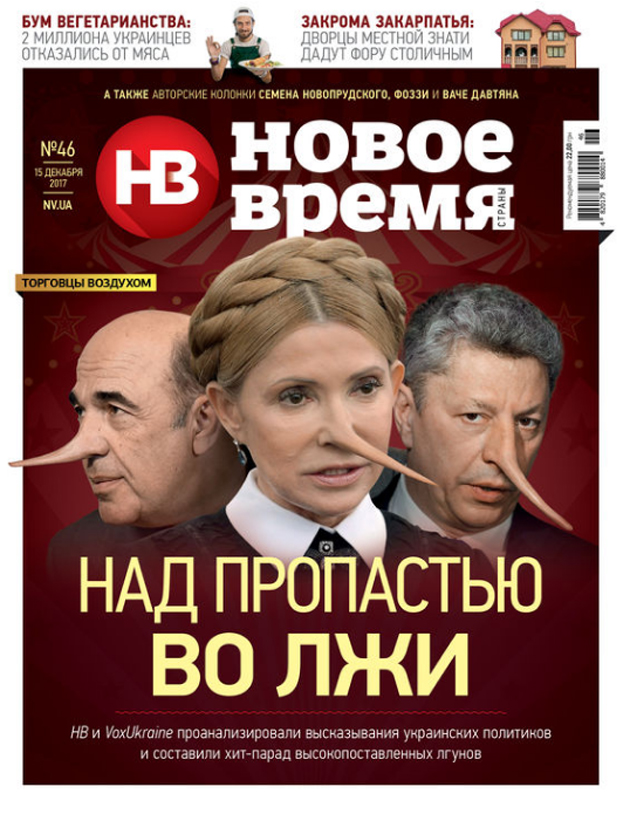 "However, some of the top leaders prefer to remain silent. Former Prime Minister Arseniy Yatsenyuk, the leader of the People's Front party, does so. He has made just four factual statements over two months. All of them, to his happiness, are true. This is because the politician usually mentions his achievements as prime minister or talks about relations between Ukraine and the West," researchers write.
Maksym Burbak, the head of the People's Front faction, was also not included in the main rating as he made only eight remarks within two months. Bloc of Petro Poroshenko faction leader Artur Herasymov is also out of the ranking - he rarely used facts in his speeches, preferring to talk about foreign policy and other things that are difficult to verify.