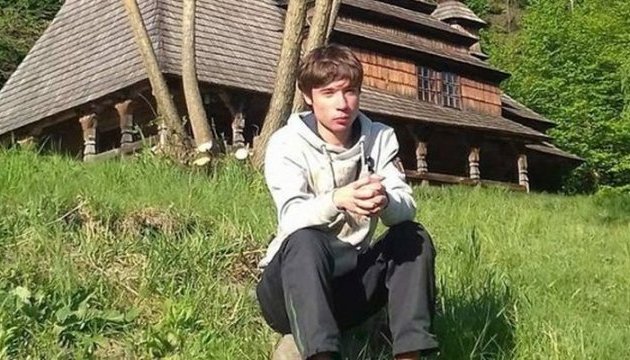 Pavlo Hryb's sister appeals to Council of Europe
Olha Hryb, the sister of 19-year-old Ukrainian Pavlo Hryb, who was imprisoned in Russia for political motives, has written an open letter to the Council of Europe.
The text of the letter was posted by the Permanent Mission of Ukraine to the Council of Europe on its website.
She points in her letter to the crimes committed by the Russian regime against her brother and other Ukrainians, Crimean Tatars.
"For more than 110 days my brother is kept in illegal detention in SIZO (preliminary detention facility) No. 5 of the city of Krasnodar in the Russian Federation. He is the youngest Ukrainian prisoner of the Kremlin, Oleg Sentsov, Olexandr Kolchenko, Roman Sushchenko and many others among them… His only fault was that through social networks he openly condemned the annexation of Crimea and the war started by Russia in eastern Ukraine," she writes.
Olha Hryb said that his brother's fundamental rights protected by the European Convention on Human Rights are brutally violated every day.
"Pavlo is not allowed to take medications that are vital to his health, forbidden to communicate in his own language and to see his family," she says.
She appeals to member states of the Council of Europe on issues related to illegal activities of the Kremlin.
"Do we want to live in a world where Russian special services hunt for teens and apply Stalinist terror practices to them? Are we going to turn blind eye to the fact that representatives of the whole nation are being persecuted because of ethnic origin, as is the case with the Crimean Tatars in occupied Crimea? Are we going to agree that authoritarian regimes use people as hostages in geopolitical games? Are we really ready to exchange values for economic interests?" Olha Hryb said.
She also added that "the European Convention on Human Rights stipulates that everyone has the right to liberty and security of person and cannot be arbitrary arrested." She recalled that "member states of the Council of Europe agreed to fulfil these and other legally binding treaty norms right after the end of the Second World War which nearly destroyed the European civilization."
op