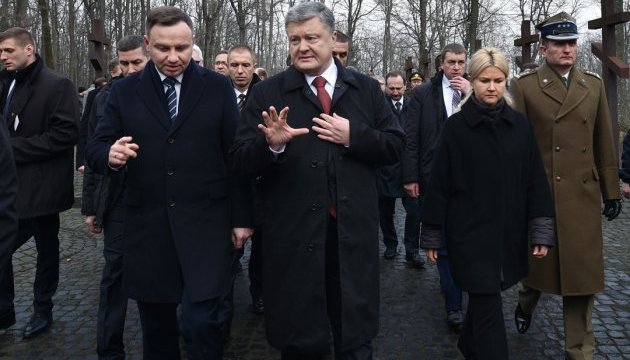 Russia will benefit from Ukrainian-Polish historical conflicts - Poroshenko
Ukrainian President Petro Poroshenko has said that he and his Polish counterpart Andrzej Duda have a clear understanding that historical conflicts between the two countries are beneficial to Russia.
He said this during a joint press conference with Duda in Kharkiv on Wednesday, December 13, an Ukrinform correspondent reports.
"I and Mr. President [Duda] have a very clear understanding that only one side benefits from historical conflicts between Ukraine and Poland, and it is not Ukraine or Poland, but Russia," Poroshenko said.
He also said that history should be left to historians, and "politicians should deal with the future."
Poroshenko said that the reaction of the Ukrainian side was quite simple - any destruction of monuments is vandalism. The monuments will be rebuilt or have already been rebuilt by local authorities, he said.
Poroshenko also said that Ukraine and Poland had agreed to reduce the "black list" of persons who are banned from entering the countries.
"We have agreed to reduce the list of people who are refused entry to our countries," he said.
op