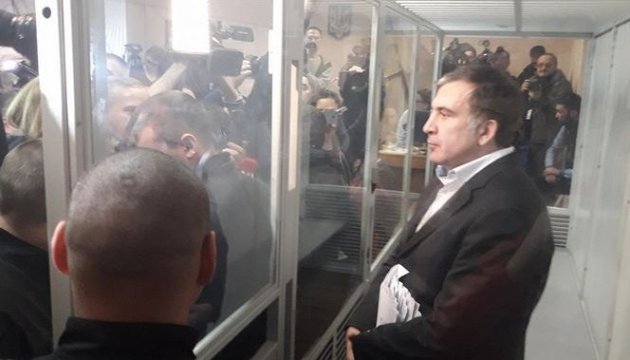 Russian special services may eliminate Saakashvili - prosecutor
Russian special services are taking measures to gain access to Mikheil Saakashvili and his arrested associate Severion Dangadze in the case on the wiretapping of fugitive oligarch Serhiy Kurchenko, and the attempt to eliminate them is not ruled out, according to SBU intelligence.
The measure of restraint in the form of round-the-clock house arrest and round-the-clock protection can prevent these risks, as well as ensure that the suspect performs the duties assigned to him by the Criminal Procedure Code.
Prosecutor General's Office prosecutor Oleksandr Hovorushchak stated this at a session on choosing a measure of restraint for Saakashvili measure in Kyiv's Pechersk District Court on Monday, an Ukrinform correspondent reports.
"In connection with measures to document the criminal activity of Kurchenko, who, under the leadership of the Russian FSB, funded Saakashvili and protest rallies in Ukraine, Russian special services are taking measures to gain access through their agents in Ukraine to Saakashvili and Dangadze in order to clarify the details of the talks between him and Kurchenko to further establish Russian citizens who may be involved in documenting the criminal activity of Kurchenko, Saakashvili and Dangadze," the prosecutor said, with reference to the SBU's main office in Kyiv and Kyiv region.
One of the options to destabilize the situation in Ukraine may be attempts by the Russian special services to eliminate Saakashvili and Dangadze, the prosecutor added.
In addition, the prosecution believes that other, milder preventive measures (other than round-the-clock house arrest) cannot ensure that the suspect fulfills his obligations under the Criminal Procedure Code of Ukraine.
op