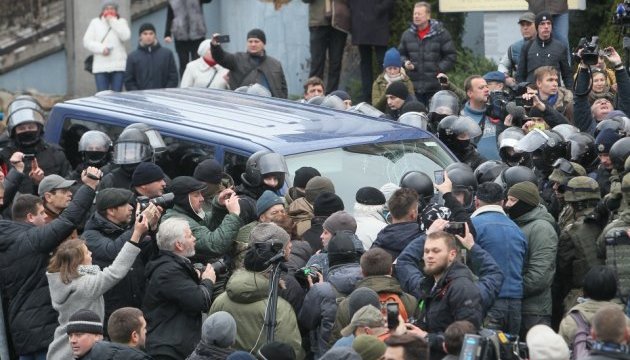 Supporters of Saakashvili pull him out of police van
Supporters of Mikheil Saakashvili, the former Odesa regional governor who was detained on Tuesday, have pulled him out of the police van in which he stayed.
According to an Ukrinform correspondent, activists broke the glass in the van and smashed the rear door.
The column of activists, headed by the politician, is moving to the government quarter. They also plan to go to the building of the Presidential Administration and the Verkhovna Rada.
As reported, employees of the Prosecutor General's Office and the Security Service of Ukraine searched Saakashvili's apartment at Kostiolna Street in Kyiv on Tuesday morning. After the search, Saakashvili was detained and put into a minibus.
Later, the SBU reported on its website that Saakashvili had been detained as part of a criminal proceeding opened under Part 1, Article 256 of the Criminal Code of Ukraine (assisting members of criminal organizations and covering their criminal activity).
Prosecutor General Yuriy Lutsenko said that Saakashvili's activity had been financed by Ukrainian businessman Serhiy Kurchenko, who, in particular, handed half a million dollars for the Movement of New Forces party.
op