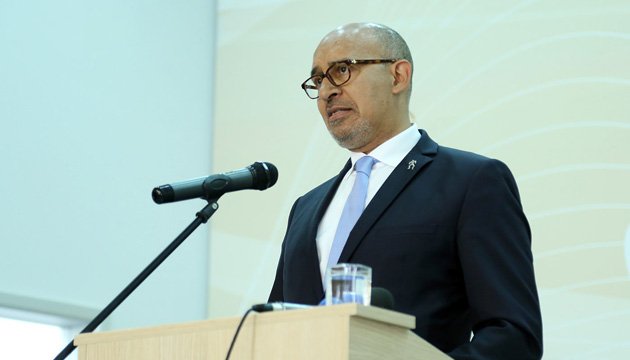 OSCE calls blocking of NewsOne channel unacceptable
The Organization for Security and Cooperation in Europe (OSCE) is concerned about the situation with the intentional blocking of access to the office of the NewsOne television channel in Kyiv.
OSCE Representative on Freedom of the Media Harlem Desir stated this on Monday, an Ukrinform correspondent reports.
"Obstructing access to the news channel's office is direct interference in its work and physical intimidation of media workers. It is an unacceptable situation and an attack on the freedom of the media which cannot be justified," Desir said.
He called on the authorities to do their utmost to ensure that press freedom will be respected, to provide a safe working environment for the staff of NewsOne and to ensure the unhindered and free work of the broadcaster.
Desir noted the concern of the National Union of Journalists of Ukraine regarding the matter. He also noted President Petro Poroshenko's statement saying that any pressure on the media, and even more so their blocking, is unacceptable.
The NewsOne television channel announced on December 3 that unidentified individuals in military uniforms had blocked the entrance to the building of the channel. The entrance was blocked by barbed wire, and a truck with bags of unknown content arrived.
MP Yevhen Murayev, who owns the channel, said that the head of the Bratstvo (Brotherhood) Party, Dmytro Korchynsky, was responsible for blocking the work of the channel.
Korchynsky himself confirmed this on Facebook and announced the demands of those who blocked the channel. According to him, they demand an apology from Murayev, who called the Revolution of Dignity a "coup d'etat."
The Verkhovna Rada committees on culture and spirituality, as well as on freedom of speech and information, initiate parliamentary hearings on information security due to the situation with the NewsOne television channel.
op