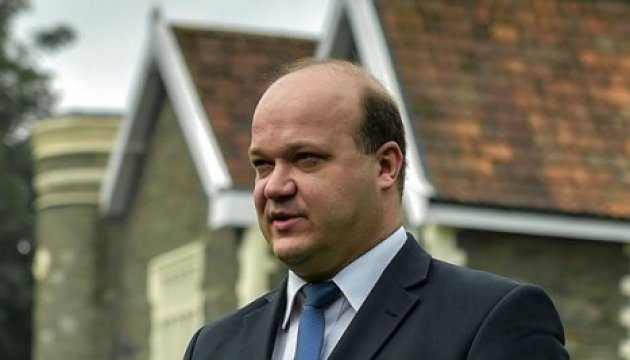 Chaly says what should precede deployment of UN peacekeepers to Donbas
The possible deployment of a UN peacekeeping force to eastern Ukraine will be discussed when the UN secretary general decides to send the so-called "assessment mission" to the region.
Ukraine's Ambassador to the United States Valeriy Chaly said this to journalists in Washington on Monday, an Ukrinform correspondent reports.
"The procedures [concerning the preparation of a UN peacekeeping mission in eastern Ukraine] are continuing, and the first decision to be taken is the sending of the so-called 'assessment mission,' that is, a special mission that should precede the deployment of peacekeepers to Ukraine," the Ukrainian diplomat said.
He said that this decision should be taken by the UN secretary general.
"And this appeal was made by the Ukrainian president at a personal meeting with Mr. Guterres in New York in September," Chaly said.
Therefore, according to the diplomat, "it will be possible to talk about the prospects of a peacekeeping mission in eastern Ukraine when the first step – an assessment mission – is made."
He also said that Ukraine's position on UN peacekeepers in Donbas was principled. According to him, "it is necessary to adopt a resolution that speaks precisely about the location of the peacekeeping contingent throughout the territory, including the border," because the main goal is to bring peace, rather than freeze the conflict.
"We support the efforts of U.S. Special Representative Kurt Volker and all the efforts of representatives of Germany and France in the negotiation process," the ambassador said.