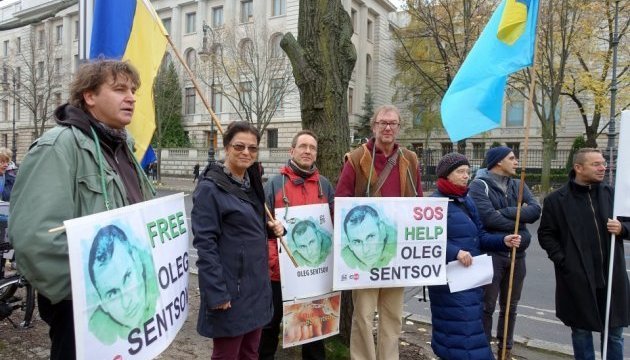 PEN centre holds rally in support of Sentsov, Sushchenko near Russian Embassy in Berlin. Photos
The members of the German Centre PEN International held a rally, demanding to release Ukrainian prisoners Oleg Sentsov and Roman Sushchenko who are now held behind bars in Russia.
More than 30 representatives of different countries took part in the rally in front of the Russian Embassy in Germany in Berlin on November 15, an Ukrinform correspondent reports.
"The embassy workers must see us and our protest. Most importantly, the journalists have gathered here to cover this rally in newspapers. We must constantly remind about Oleg Sentsov," organizer of the rally, Berlin writer and activist Freya Klier told Ukrinform.
She noted that the PEN International marks the Day of the Imprisoned Writer annually on November 15.
Russian sociologist, Boris Nemtsov's cousin Igor Eidman drew attention to the fact that the Forum of Russian-speaking Europeans was founded in Germany, whose tasks include, among other things, the support for political prisoners in Russia. In addition, the Forum aims "to bring to the attention of the local [German] public that not all Russian-speaking people support Putin, current Russia's criminal system and annexation of Crimea.
Of course, Eidman and the likeminded activists do not expect that the Russian embassy "will be terrified of our rally and immediately release political prisoners", but they are not going to keep silent either. "We have gathered to express these demands and will continue to seek the liberation of both Sentsov and [Ukrinform correspondent] Sushchenko," Eidman assured.
German lawyer Christian Pipa was holding the poster "Freedom to Roman Sushchenko." "It is very important not to forget about these people. It is sad that Sushchenko's case has not hit the headlines in Europe," he said. At the same time, the young man hopes that the situation will change, including with the help of such actions. "If we can make at least some contribution, we must do it. It is very important fact that writers and journalists are here today," Pipa said.
"Sentsov is a symbol of all Ukrainian cultural figures thrown behind the bars in Russia," noted Vitaliy Oliynyk, a Ukrainian who has lived in Germany for more than 20 years.
An old friend of Ukraine Ronald Wendling was also among the rally participants. The man comes to the Russian embassy in Berlin every Thursday for the past three years to hold a one-man protest in support of Ukrainian prisoners in Russia.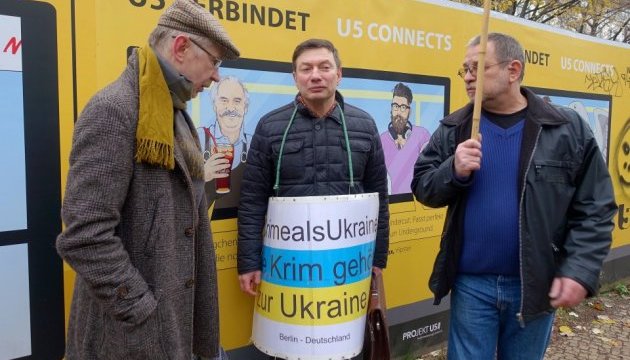 ol