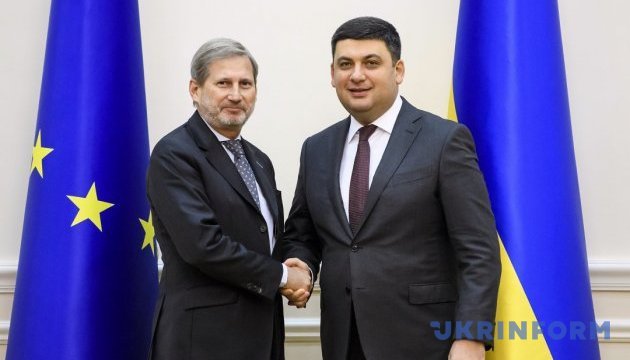 Groysman, Hahn discuss Association Agreement, reforms
EU Commissioner for European Neighborhood Policy and Enlargement Negotiations Johannes Hahn has said that changes in Ukraine are already evident and added that all issues related to the implementation of the Association Agreement will be resolved.
He said this at a meeting with Ukrainian Prime Minister Volodymyr Groysman in Kyiv on Wednesday, according to the government portal.
According to the commissioner, the progress of change in Ukraine is evident and all issues related to the implementation of certain provisions of the Association Agreement can and will be resolved in accordance with Ukraine's responsibilities and existing procedures.
"We would like to congratulate your government team on the implementation of reforms," Hahn said.
Groysman, in turn, spoke about the progress of pension, medical, education reforms, civil service reform, and also noted that the agenda, among other things, included privatization, implementation of energy efficiency and energy independence policies, as well as reform of corporate governance in state holdings, primarily at NJSC Naftogaz of Ukraine.
"We managed to adopt a number of important reforms, and yesterday [on November 14] the Verkhovna Rada adopted the draft state budget for 2018 at first reading. The draft law on privatization was also approved at first reading," he said, adding that these were all steps on the road to achieving the key goal of ensuring sustainable economic growth in the state.
During the negotiations, the sides also discussed the adoption and implementation of the action plan on the implementation of the Association Agreement.
"At the end of October, we held a special government meeting, reviewed the state and problems of implementation, approved a government plan of implementation of the agreement, and now we are preparing a roadmap of interaction between the government and the parliament on the implementation of the agreement. We focus on improving management processes," Groysman added.
Separately, the head of government proposed that Commissioner Hahn consider further support for Ukraine, especially in the implementation of socially significant reforms in education, medicine and decentralization, privatization and land relations, the report says.
op