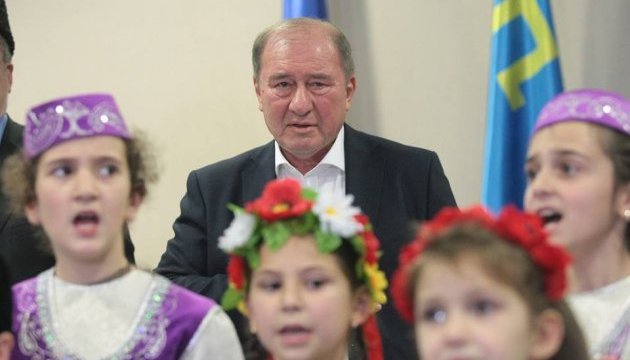 Umerov to return to Crimea after trip to Germany
Deputy chairman of the Mejlis of the Crimean Tatar people Ilmi Umerov, who currently stays in Kyiv, is planning to return to Crimea after his trip to Germany, where he was invited for medical treatment and examination.
"I will go to Crimea after my trip to Germany, connected with the invitation to undergo examination and treatment," he wrote on his Facebook page on Monday.
He thanked everyone who supported him recently and said that he could not get used to the idea that he was "taken out of Crimea."
"I thank all those who supported me in these days. I cannot and do not want to get used to the idea that I was taken out of Crimea. I love and appreciate freedom very much, but this should also be in Crimea. The struggle continues," Umerov wrote.
As Ukrinform reported, on October 27, Umerov and deputy Mejlis chairman Akhtem Chiygoz, who were transferred by the Russian side to Turkey, arrived in Kyiv. Umerov was sentenced in Crimea to two years in a penal colony on charges of alleged public appeals for violating the territorial integrity of Russia. Chiygoz was sentenced to eight years in prison in the "case of February 26." International human rights organizations have repeatedly called for the release of Umerov, Chiygoz and other Crimean Tatar politicians and public activists.
op