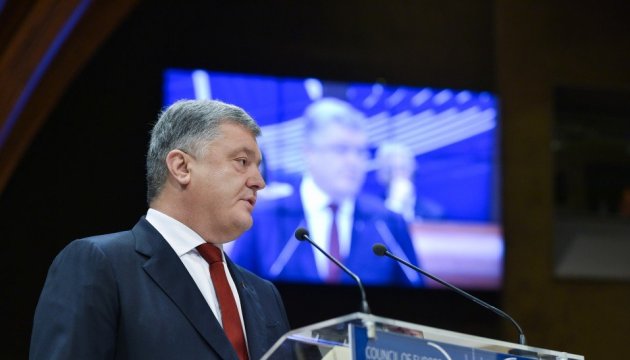 President comments on education law at PACE
It is unacceptable when children belonging to ethnic minorities in Ukraine do not have proper knowledge of the state language, which they need for further education and self-realization in the country, Ukrainian President Petro Poroshenko has said.
He stated this at a plenary session of the Parliamentary Assembly of the Council of Europe (PACE) in Strasbourg on Wednesday, an Ukrinform correspondent reports.
"It is unacceptable that children belonging to national minorities in Ukraine do not have proper knowledge of the Ukrainian language, which they need for further study at universities and institutes, for the construction of a career, civil service, for self-realization in Ukraine," Poroshenko said.
The president said that the Ukrainian law on education, which is too politicized, corrects this situation. He noted that the Verkhovna Rada had taken this measure to intensify the study of the Ukrainian language at pre-school and elementary educational institutions so as to switch later to the study in the state language, while not leaving the teaching of the mother tongue in the necessary volumes.
According to Poroshenko, his position on the field of education is clear: "The quality of education determines the future and security of each state, and we cannot keep this area unreformed."
"The adopted law has become not only a significant part of education reform, but also a law of equal opportunities for all participants in the educational process. And I especially emphasize that equal opportunities are for all students! They are equal to everyone, regardless of origin, place of residence, nationality," he said.
The head of state recalled that the European Charter for Regional or Minority Languages, adopted in Strasbourg in November 1992, states that all obligations to national minorities should be fulfilled "without prejudice to the teaching of the official language(s) of the state."
"I am sure that the provisions of this Charter should be properly observed by all who signed it," he said.
The president said that Ukraine would adequately guarantee language rights in accordance with national legislation and international obligations and standards, including the right to study in the native language. At the same time, the study of the state language, Ukrainian, will be secured, he added.
Poroshenko said that Ukraine's decision to send to the Venice Commission the respective norm for examination was "the best evidence of this."
He expressed confidence that the conclusions of the Venice Commission would make it possible to remove all controversial interpretations of this law, "which in fact aims to provide a decent place for all national minorities in a single Ukrainian society."
"Ukraine will be able to implement these recommendations in the new educational legislation," Poroshenko said.
op