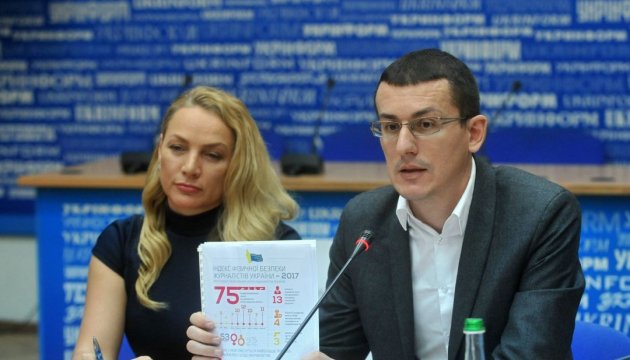 NUJU records 75 attacks on Ukrainian journalists this year
The National Union of Journalists of Ukraine (NUJU) has recorded 75 incidents of physical aggression against journalists committed by officials, deputies and law enforcement officers over the first nine months of 2017.
NUJU Chairman Serhiy Tomilenko said this during the presentation of the index of physical security of Ukrainian journalists, which was held at Ukrinform on October 4.
"The index of physical security of journalists is a monthly monitoring of physical aggression against journalists in Ukraine. Given the data we have processed since the beginning of the year, we report that we recorded 75 incidents of physical aggression against journalists over the past nine months. We do not determine the severity of attacks - the key to us is the use of physical force, direct contact with a journalist and, accordingly, preventing him from fulfilling his duties," Tomilenko said.
The largest number of such incidents occurred in June, when their number was 12, and the lowest in March - four cases.
At the same time, the NUJU head said that journalists were attacked by officials or deputies in 13 cases and by police officers or employees of the State Guard Department in four cases. In addition, three cases of use of weapons against media representatives were recorded.
At the same time, most cases of physical aggression against journalists, according to Tomilenko, were recorded in Kyiv region.
"Regarding the regions in which most manifestations of physical aggression are recorded, the 'leader' is certainly Kyiv region and the city of Kyiv, where 19 incidents were recorded. The following regions are Odesa region (nine cases), Donetsk region (six cases), five cases each in Zhytomyr and Mykolaiv regions, and four each in Vinnytsia, Poltava and Dnipropetrovsk regions," he said.
In most cases, NUJU receives comments from injured journalists and evidence from law enforcement agencies. However, Tomilenko said, today there is a lack of effective investigations into respective incidents.
"We want to get at least 3-5 effective investigations and punishment for crimes against journalists. This will prevent anyone from beating journalists," he said.
One of the options to attract the attention of the authorities and society to such cases is parliamentary hearings on physical security, which are scheduled for November 1, he said.
op