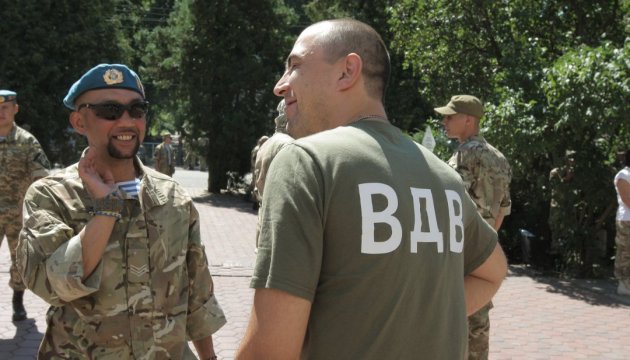 President congratulates Ukrainian paratroopers on professional holiday
Ukrainian paratroopers, through their courageous actions in Donbas, have demonstrated to the whole world that the Ukrainian army is able to protect the country from any aggressor, President Petro Poroshenko has said.
"I congratulate you on the Day of Airmobile Forces. Desperation, strength of will, invincibility of spirit and cold-blooded rage to the enemy are the defining features of Ukrainian paratroopers. Trained to fulfill important tasks in conditions of incredible physical and psychological stress, you are always where it's hardest, where courage and stability, speed and decisive pressure are needed," the head of state said in his greetings to the soldiers and veterans of the Airmobile Forces of the Armed Forces of Ukraine in connection with their professional holiday.
He added that there were no obstacles that cannot be overcome by Ukrainian paratroopers and there was no enemy that could withstand them. "All this has made you the elite of the Armed Forces of Ukraine."
"The world realized on the example of your courageous actions in the frontline in Donbas that the Ukrainian army, in terms of the professionalism of its warriors, is able to protect its homeland from any aggressor," Poroshenko said.
He also mentioned the soldiers who sacrificed their lives for the peaceful future of Ukraine during the anti-terrorist operation.
On behalf of the Ukrainian people, the president thanked all the personnel and veterans of the Ukrainian Airmobile Forces for heroism, dedication and loyalty to military duty, wishing them good health, prosperity and an indelible faith in victory.
op