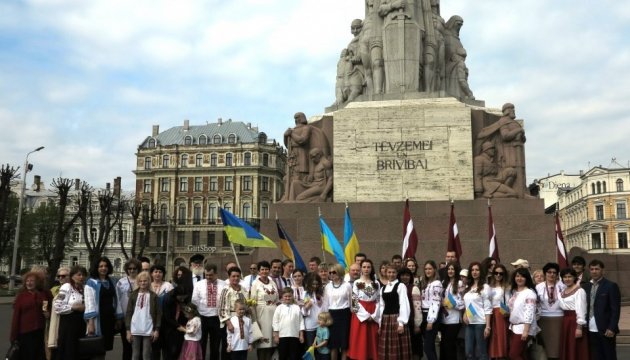 Vyshyvanka Day celebrated in Riga. Photos, video
The Ukrainian Diaspora in Riga and the Latvian activists jointly celebrated the Vyshyvanka Day on May 18.
This is reported by an Ukrinform correspondent.
The activists gathered near the Latvian National Opera in the center of Riga. Ukrainians wore embroidered shirts, and Latvian friends wore their national clothes. The activists were holding the national flags of Ukraine and Latvia.
People laid flowers and wreaths to the Monument of Freedom and then walked to the monument to Ukrainian poet Taras Shevchenko in the Kronvalda Parks. Flowers laid to the monument, the activists sang hymns of Latvia and Ukraine.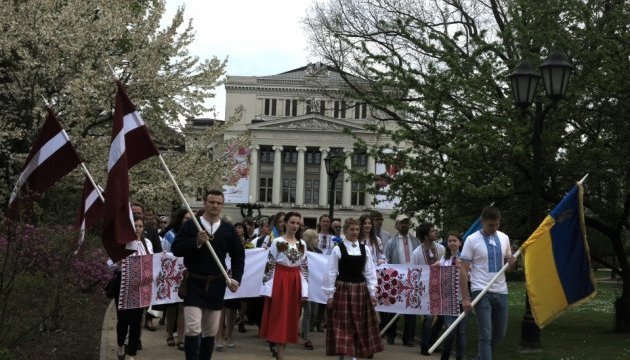 A brief speech was delivered by the Charge d'Affaires of the Embassy of Ukraine in Latvia Alisa Podolyak. She awarded public activists diplomas and medals and told about the history of the holiday, its significance for the present-day Ukraine and the Ukrainian Diaspora.
In the Embassy, Podolyak reminded that May 18 was a sad date in the history of Ukraine. In 1944, the criminal deportation of Crimean Tatar people from Crimea was launched. The victims of deportation were honored with a minute of silence.
ol