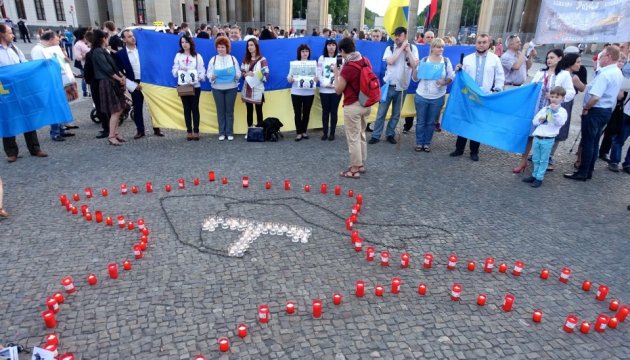 Candles in memory of deportation of Crimean Tatars lit in center of Berlin. Photos, video
The action to commemorate the anniversary of the deportation of the Crimean Tatar people was held at the Potsdamer Platz in the center of Berlin.
Participants in the action placed the candles to form outline of the peninsula and Tamga, the symbol of Crimean Tatar people, an correspondent of Ukrinform in Germany reports.
"Today, the Crimean Tatars are being intimidated again, they are experiencing repressions. Even more absurd is the fact that they cannot even pay tribute to the victims of deportation in 1944," said Rostyslav Ohryzko, advisor to the Ukrainian Embassy in Germany.
"There is so far no simple answer to how to force Russia to return to the legal field yet. However, one thing is clear: Crimea will always be a part of Ukraine, where Crimean Tatars feel at home," the diplomat said. He stressed that the overwhelming majority of countries supported Ukraine saying this annexation was absolutely illegal.
Ohryzko called on Germany not to stop to exert pressure on Moscow. "The process of return may last a long time, but history knows enough examples confirming that any occupation ends," the diplomat said.
ol