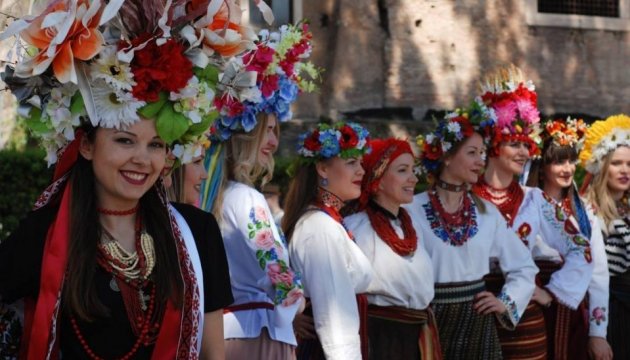 Ukrainian women in embroidered shirts walk in fashion parade along streets of Rome. Photos
On the occasion of the World Vyshyvanka (Ukrainian embroidered shirt) Day, the Ukrainian women held a creative event in the historic part of the Italian capital.
Oles Horodetsky posted this on his Facebook page.
Twelve Ukrainian beauties in national costumes walked in an improvised fashion parade from the Colosseum to the Piazza di Spagna, showing the Ukrainian traditions to the residents and guests of Rome.
The main goal of the parade was to popularize the embroidered costumes and remind the world that people are still dying in such a beautiful European country – Ukraine – as a result of the Russian aggression.
According to the initiator of the event, chairwoman of the Congress of Ukrainians of Italy Mariana Tril, the action was a success. "The Ukrainians of Rome thus not only joined the celebration of the World Vyshyvanka Day but also acquainted the Italians with the Ukrainian culture. Our national traditions are extremely rich, let's tell other peoples about them!" noted the activist, thanking all the participants.
The event was organized by the Congress of Ukrainians of Italy and the EuroMaidan-Rome organizing committee.
Photos by Marì Kornilevska and Alesya Tataryn
ol