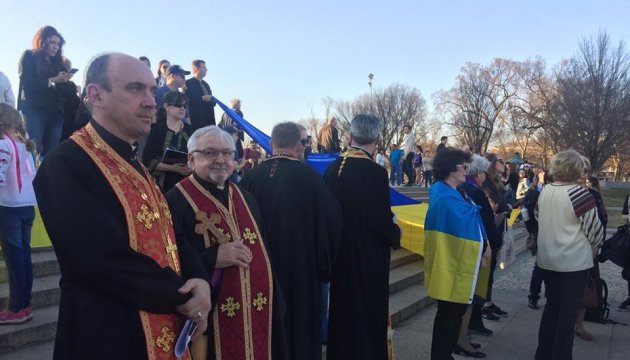 Fallen Euromaidan activists commemorated in Washington
The memorial ceremony to pay tribute to the Heroes of the Heavenly Hundred, the activists of Euromaidan protests, who died defending the freedom of Ukraine three years ago, and those, who have been killed in the ongoing struggle of Ukrainians for the independence, was held in Washington.
The event, which took place at the Lincoln Memorial in the heart of the US capital, was attended by hundreds of people, an Ukrinform correspondent reported.
Representatives of the Ukrainian community in the USA, the Embassy of Ukraine in Washington, the clergy, indifferent Americans and citizens of other countries observed a minute's silence to commemorate the fallen heroes.
Ambassador of Ukraine to the United States Valery Chaly stressed during the ceremony that "the struggle for Ukraine is ongoing amid the continuing Russian aggression." He thanked the Ukrainian organizations in the USA for the unity and solidarity with Ukraine.
ol