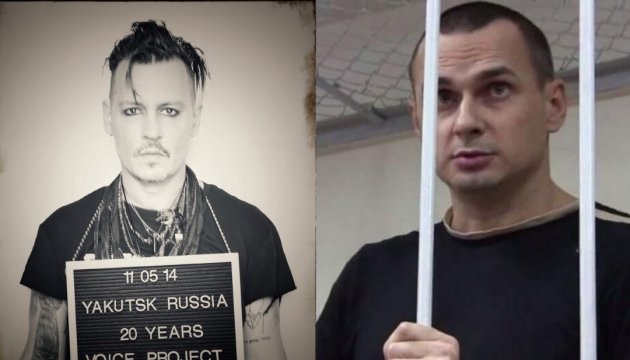 Johnny Depp joins campaign to support Ukrainian filmmaker Oleg Sentsov
Voice Project human rights activists have launched the "Imprisoned for Art" campaign to advocate on behalf of artists imprisoned around the world for freedom of expression.
This is reported on the organization's website.
The campaign, which enlists Peter Gabriel, Johnny Depp, Pussy Riot's Nadya Tolokonnikova, Edward Sharpe's Alex Ebert, Tom Morello and Ana Tijoux, tries to draw attention to the fate of artists from around the world who were convicted for political reasons.
"Each artist is paired with a currently imprisoned counterpart, whose arrest information is displayed on a traditional mugshot police board. T-shirts, tank tops and hoodies bearing this striking image will be sold and the funds used for advocacy efforts. The campaign goal is to step up efforts to free dissidents currently imprisoned for simply using their art and voices to speak out," the statement reads.
Johnny Depp supports Ukrainian filmmaker Oleg Sentsov, who now serves his sentence in the Russian Federation.
Oleg Sentsov and Oleksandr Kolchenko were sentenced by Russia's district military court to 20 and 10 years in prison respectively for alleged plotting terrorist attacks on the territory of the Russia-annexed Crimea.
ol