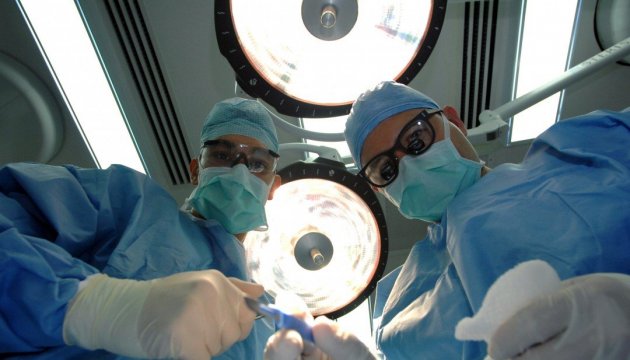 Canadian surgeons performed 40 plastic operations on injured in ATO servicemen and in Maidan Square
This week, Canadian surgeons have performed 40 plastic operations on injured in ATO servicemen and during the Revolution of Dignity in Maidan Square.
Head of the clinic on maxillofacial surgery and dentistry at the Main Military Clinical Hospital of Ukraine Ministry of Defense, Colonel Ihor Fedirko told a briefing on Friday, Ukrinform reports.
"Today the fourth Canadian-Ukrainian mission for caring for the injured in the ATO area and during the events of the Revolution of dignity completes its work. A total of 34 patient were operated, and by the end of this day six more patients will have undergone surgeries. Overall, 40 patients will have had operations and 80 surgeries will have performed," Fedirko said.
He added that all operations were successful, patients don't have any postoperative complications. Some of them have already been discharged from the hospital and continue treatment as outpatients at their residences or in hospitals.
Fedirko recalled that the Canadian community had raised funds for the first and second mission, while the next missions were financed by the government of Canada because the officials saw their necessity and effectiveness.
Sunnybrook Program Manager on cranial injury at the Science Center in Health and Professor of Plastic Surgery, University of Toronto, Oleh Antonyshyn in hi turn said that Canadian doctors utilized medical equipment during operations which they brought with them. It has been used to make similar surgeries in Canada. They are going to leave it behind in Ukraine so that it will be used by our medical doctors.
Antonyshyn also said that during the fourth mission of Canadian doctors has consulted about 100 patients, while some of them have already been seen by them before.
President of the Canadian-Ukrainian Foundation Viktor Hetmanchuk in his turn thanked the President of Ukraine for the fact that he personally met key members of the Canadian doctors' team and awarded them with state accolades.
Responding to journalists' questions, Hetmanchuk noted that the budget of the fourth Canadian-Ukrainian mission amounted to CAD 1.2 mln. and he hoped that they would organize such teams for Ukraine in the future.