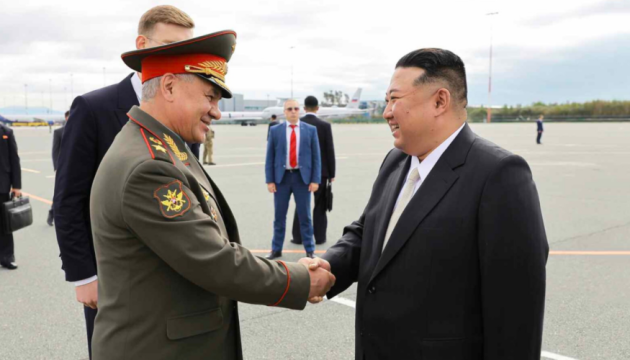 Kim, Shoigu talk strengthening defense ties
North Korean leader Kim Jong Un and Russian Defense Minister Sergei Shoigu discussed strengthening military cooperation and exchanges between the two countries.
This is reported by Yonhap with reference to the North Korean state news agency KCNA, Ukrinform saw.
According to KCNA, during Saturday's meeting in Vladivostok, Kim and Shoigu "exchanged their constructive opinions on the practical issues arising in further strengthening the strategic and tactical coordination, cooperation and mutual exchange between the armed forces of the two countries and in the fields of their national defence and security".
The details of the talks and the specific issues of cooperation between the militaries of the two countries, on which Kim and Shoigu agreed, have not been disclosed.
As reported by Ukrinform, the North Korean leader, Kim Jong Un, is visiting Russia, where he has already held a meeting with Russian President Vladimir Putin, visited aircraft factories in Komsomolsk-on-Amur, where Russian fighter jets are built, and saw Russian nuclear bombers and hypersonic missiles at the Knevichi airfield near Vladivostok.
Earlier, The New York Times, citing sources, wrote that Putin seeks to get artillery rounds and anti-tank missiles from North Korea, while Kim Jong-un seeks from Russia some advanced technology for satellites and nuclear submarines. In addition, Kim wants Russia to provide food aid to his country. The White House said Putin and Kim had recently exchanged letters, and Russian Defense Minister Shoigu's visit to Pyongyang in July included discussions of the arms deal.
The U.S., the European Union, and a number of other powers are urging North Korea to refrain from providing political or military support to Russia in its neo-imperialist war against Ukraine.