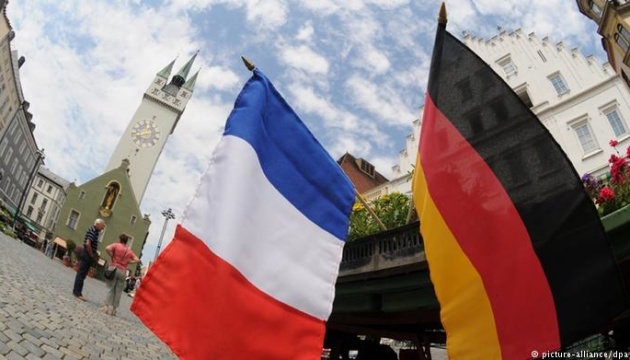 Germany, France will continue to support Ukraine together
Germany and France will continue to support Ukraine in its fight to thwart the victory of Russian imperialism.
German Chancellor Olaf Scholz and President of France Emmanuel Macron made a corresponding statement at the ceremony on the occasion of the 60th anniversary of the Elysée Treaty in Paris on Sunday, an Ukrinform correspondent reports.
"President Putin pursues imperial goals, he wants to push the boundaries with force. Ukrainians are paying a terrible price for this. But Putin's imperialism will not win! We will continue to support Ukraine as long and as much as it takes," the head of the German government promised.
The French leader, in turn, said that the two countries, together with their partners, are working around the clock to help Ukraine and strengthen its defense capabilities.
"After February 24, our Union was not split, nor did it abandon its obligations... We supported Ukraine, we imposed sanctions against Russia, Europe began to provide assistance to Ukraine after a few weeks... Our steadfast support will be ongoing," Macron said, adding that Berlin and Paris have joint responsibility for maintaining and strengthening European unity.
He noted that the current anniversary of the Elysée Treaty is of particular importance because Ukraine is now courageously resisting Russian aggression. Aggression, in which such concepts as peace and dialogue were destroyed, when the humanistic order on the European continent is under threat. Macron called for strengthening the "European project".
"France and Germany are jointly responsible for this project to be implemented together with partners in the EU," the President of France said.
ol