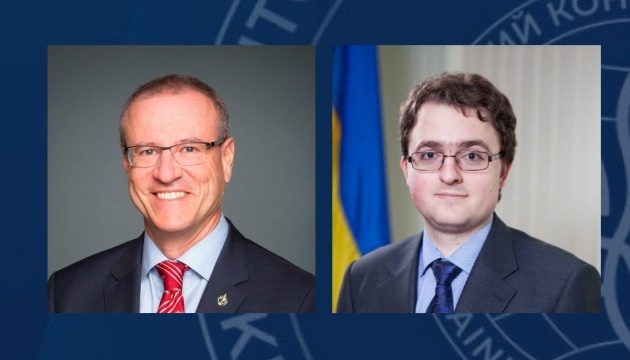 UWC, Ukrainian president's representative discuss issues of human rights in Crimea
Head of the Ukrainian World Congress (UWC) Human Rights Commission, Borys Wrzesnewskyj, together with representatives of the UWC Offices in Toronto, Kyiv, and Brussels, met with Permanent Representative of the President of Ukraine in the Autonomous Republic of Crimea and Head of the Crimea Platform Office Anton Korynevych.
According to a report on the UWC website, the meeting was also attended by Deputy Permanent Representative Tamila Tasheva and the Permanent Representative's Office staff.
"During the meeting, the parties discussed cooperation and coordination of efforts between the UWC and the Permanent Representative's Office at the international level to implement the Crimea Platform, primarily – in terms of protection of human rights in Russian-occupied Crimea. The parties have also discussed the current situation in the peninsula and a new wave of terror, launched by the Russian Federation against the Crimean Tatar People," the report says.
In addition, Anton Korynevych told the UWC representatives about the structure and the work of the Crimea Platform Offices in Kyiv and in Kherson, their general working plans and priorities in the process of de-occupation of Crimean Peninsula.
In his turn, Borys Wrzesnewskyj informed the colleagues about the UWC Human Rights Commission's working plans and planned events, such as legislative hearings in a number of countries regarding the current state of human rights in the Crimea and persecutions of members of the Crimean Tatar and Ukrainian communities.
"The parties agreed about permanent cooperation, aimed at successful implementation of the Crimea Platform action plan, joint international advocacy for maintaining and strengthening sanctions against Russia, bringing to justice those responsible for blatant violations of human rights, and at releasing the Ukrainian political prisoners in Russia," the report says.