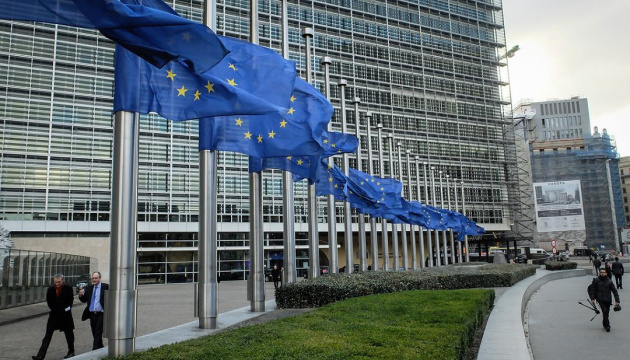 Ukraine has made some progress in fight against corruption – EC spokesperson
The European Commission welcomes the European Court of Auditors' attention to the problem of corruption in Ukraine and the effectiveness of EU assistance in overcoming it, according to European Commission spokesperson Ana Pisonero.
She said this at a briefing in Brussels on Friday, answering journalists' questions about a special report published by the European Court of Auditors on September 23 regarding the effectiveness of EU funds to help Ukraine combat corruption, according to an Ukrinform correspondent.
"The European Union has made significant efforts to pursue anti-corruption agenda in Ukraine. In some areas, EU support for reforms has been very successful. Notably, this support has allowed to close space for corruption to occur, introducing competition transparency in a number of sectors, including in the banking and gas sectors. New anti-corruption agencies have been created in Ukraine, and there was the launch of the High Anti-Corruption Court," Pisonero said.
She recalled that an unprecedentedly transparent electronic assets declaration system had been created in Ukraine, which requires public officials and politicians to disclose information about their private assets. Therefore, Ukraine has already done a lot in this area, however, challenges continue and anti-corruption reform efforts need to be kept up. According to Pisonero, the EU will continue to support Ukraine in these efforts.
"Yesterday, the Ukrainian parliament passed a law on oligarchs. We pay tribute to President Zelensky's determination to tackle this phenomenon and the influence of oligarchs, which is still great, on economic and political life in Ukraine. We have taken note of the fact that the Ukrainian parliament has adopted this law so as to fight the threat to national security, which stems from an excessive influence on the part of certain individuals or the oligarchs with political or economic weight in the country," Pisonero said.
"We think this is a step forward. But, of course, we have to wait and see whether this law is actually implemented, whether it is implemented fully, with determination, in a way which is legally sound. We need to see further steps taken in the fight against corruption in Ukraine, something which needs to be pursued. The Ukrainian government needs to make a lot of steps forward, in particular, to close the institutional gap, which remains," she said.
On September 23, the European Court of Auditors in Luxembourg issued a special report in which it found ineffective the efforts of the European Commission and the use of EU funds to support anti-corruption reforms in Ukraine. According to the authors of the report, corruption in Ukraine continues to show signs of an "endemic" and permeates all spheres of society, which requires the EU to adjust its efforts in support of reforms and in relations with Ukraine.
op