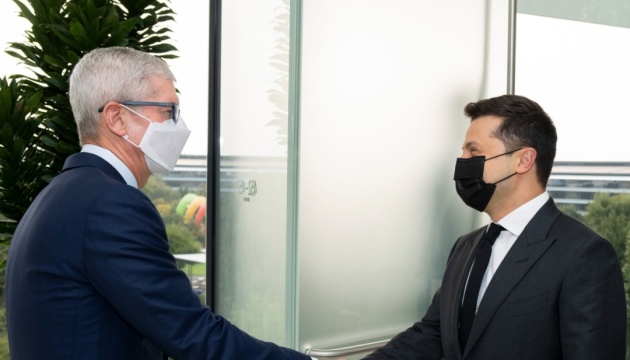 Ukrainian president meets with Apple CEO
Ukrainian President Volodymyr Zelensky has met with Apple chief executive Tim Cook.
The head of state announced this on Twitter, according to Ukrinform.
"It's a pleasure to meet with Tim Cook, who runs a company that inspires all supporters of digital transformation in the world by its example. Ukraine is already a global IT hub. We are interested in expanding Apple's presence in Ukraine and implementing new ambitious joint projects," Zelensky wrote.
According to the president's press service, Zelensky briefed Cook on Ukraine's achievements in the IT sector and expressed interest in further expanding Apple's presence in Ukraine, including through online support teams, Apple Music and AppStore moderators, and service centers.
The president and his team presented the Diia City project to Apple's CEO.
The sides also discussed the census project, which Apple has successfully implemented in the United States, and the possibility of cooperation in implementing a similar task in Ukraine.
"In addition, the meeting participants discussed the possibility of cooperation in the field of programming education for schoolchildren, students, veterans, health care workers, as well as the provision of computer equipment to schools and teachers - in support of programs that are already being implemented in Ukraine," the report reads.
According to the report, the parties also discussed the possibility of Apple building a data center for iCloud services in Ukraine, following the example of the center that was built in Denmark. They also talked about the localization of Apple products and the Ukrainianization of the Siri personal assistant.
"I hope that the dynamics of Apple's development and the pace of digitalization of our country will help create a success story for Apple in Ukraine and Apple with Ukraine," Zelensky said.
Zelensky is on a working visit to the United States at the invitation of U.S. President Joe Biden. They met in the White House on September 1.
Zelensky is to end his visit to the U.S. on Sunday, September 5.
op