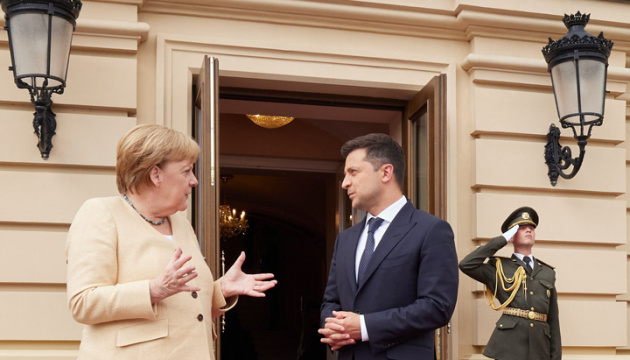 Zelensky on weapons for Ukraine: We know how Germany could help
Ukraine still hopes that Germany will provide weapons and knows in which areas assistance is possible.
"We also appealed to the German government with a request of arms supplies and were indeed denied, in one form or another," President of Ukraine Volodymyr Zelensky said at a joint briefing with German Chancellor Angela Merkel in Kyiv, an Ukrinform correspondent reports.
Europe, including Germany, supports Ukraine within the framework of the exercises, he added.
"But we need very substantive things. And we know in which areas Germany could support us. And we are still very much relying on it and waiting for it," the President added.
Pursuant to the agreements and within the framework of cooperation with NATO, the Ukrainian side expects to get sniper rifles, "many other things, apart from the navy and military boats, which we would like to receive from our partners," Zelensky said.
He noted that the topic was not raised during the face-to-face conversation with the German Chancellor but did not rule out that it would be discussed during lunch.
In turn, German Chancellor Angela Merkel, answering questions from journalists, said that she "did not deal with this issue in detail."
"Our position on arms supplies is quite clear, but there is still cooperation within NATO, there are joint Ukraine-NATO meetings. Germany is part of the Alliance, and when it comes to training, support, we are ready. But I did not bring any specific proposals," Merkel said.
As reported, German Chancellor Angela Merkel makes a visit to Ukraine on August 22. Zelensky and Merkel last met during the state visit of the President of Ukraine to Germany on July 12.
ol