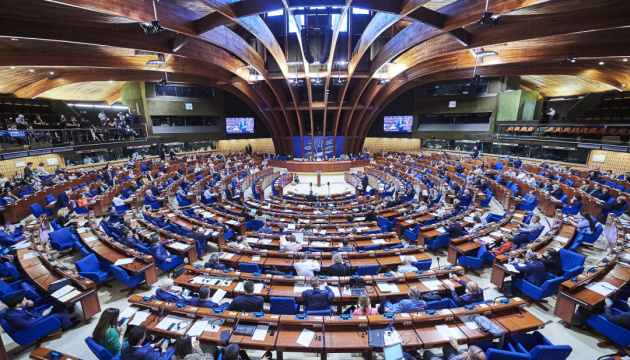 PACE urges Russian Federation to stop reprisals against Crimean Tatars
The Parliamentary Assembly of the Council of Europe adopted a strict comprehensive resolution calling on the occupying power, the Russian Federation, to ensure that the rights of the Crimean Tatar people are respected, international law is observed, and Ukraine's territorial integrity is restored.
This is stated in the PACE resolution "The situation of Crimean Tatars" ["Human rights violations committed against Crimean Tatars in Crimea"] adopted by the vast majority of delegates on June 23, an Ukrinform correspondent reports.
The resolution was supported by 73 delegates; 17 were against, and two abstained.
The rapporteur is Thorhildur Sunna Ævarsdóttir, Iceland's parliamentarian, representative of the Icelandic Pirate Party and the political group of Socialists, Democrats, and Greens Group in the PACE.
"The Assembly strongly condemns the ongoing temporary occupation of part of the territory of Ukraine – the Autonomous Republic of Crimea and the city of Sevastopol – by the Russian Federation, and reaffirms the non-recognition of its annexation," reads the document.
PACE urges the Russian authorities to implement the UN General Assembly resolution, as well as other international legal decisions to end the occupation and restore Ukraine's territorial integrity.
The Assembly notes that the Russian occupation regime's reprisals against Crimean Tatars include killings, enforced disappearances, torture, and inhuman and degrading treatment. All this is being done by Russian security forces using illegal and unfair legal procedures.
The work of journalists and the freedom of expression and assembly have also been unjustifiably restricted. The constant, disproportionate pressure placed on Crimean Tatars and human rights defenders working on their behalf creates a climate of fear and hostility.
The Assembly expressed deep disappointment over the fact that these violations are the result of the application in Russia of Russian legislation to combat terrorism and extremism, which is also a violation of international law.
In particular, such violations of international law by the Russian regime run counter to the use of international human rights mechanisms and instruments, including the European Court of Human Rights (ECHR).
PACE called on Russia to immediately release all persons detained and imprisoned with violations and abuses of Russian law on the peninsula, which is contrary to international law.
In the resolution, PACE delegates also called on Russia to ensure full and unhindered access to Crimea for representatives of international and regional human rights organizations in order to monitor the human rights situation on the peninsula as a territory of Ukraine which is temporarily occupied.
In addition, the Assembly called on the Russian authorities to end the forced conscription of Crimean residents, including Crimean Tatars, into the Russian armed forces.
As reported, Council of Europe Commissioner for Human Rights Dunja Mijatović previously stated that she could not enter the territory of Crimea to get acquainted with the human rights situation on the peninsula.
ol