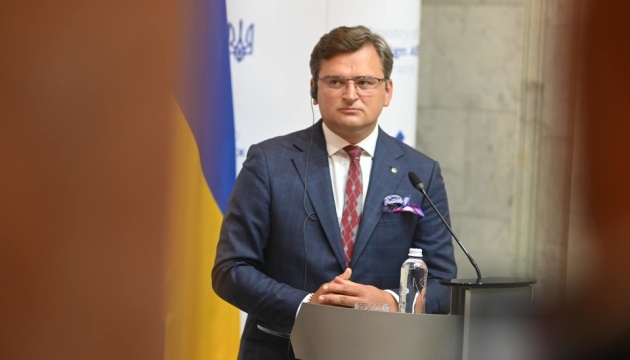 Kuleba: Russia tries to dissuade other countries from participating in Crimean Platform
The Crimean Platform is a political weapon of Ukraine to protect the territorial integrity and its restoration within the borders, which Russia is trying to discredit in all possible ways, making efforts to dissuade countries from participating in it.
"The Crimean Platform is a political weapon of Ukraine to protect our territorial integrity and restore borders.… Russia discredits the Crimean Platform in all possible ways and makes efforts to prevent countries from participating in it," Minister of Foreign Affairs of Ukraine Dmytro Kuleba told journalists following the Antalya Diplomacy Forum, an Ukrinform correspondent reported.
According to him, Russia views the Crimean Platform in the same way as the arms sale to Ukraine: they dissuade everyone they can. Nevertheless, there are already many confirmations of participation in the Crimean Platform summit at the level of presidents, heads of government, and foreign ministers. And even more confirmations are expected.
The minister stressed that Turkey was among the first countries to express support for the Crimean Platform.
"I don't think there are closer friends on Crimea than Ukraine and Turkey. We are the nations that care about this territory, the people who historically inhabit it – the Crimean Tatars, their culture and the revival of the nation. Therefore, cooperation between Kyiv and Ankara on these issues is a very natural process. It is not only about politics, it is also about taking care for those Crimean Tatars who were forced to leave the peninsula after the Russian aggression," Kuleba said.
He reminded of the implementation of a joint Ukraine–Turkey project on the construction of housing for Crimean Tatars.
As reported, the Crimean Platform summit will take place in Kyiv on August 23.
ol