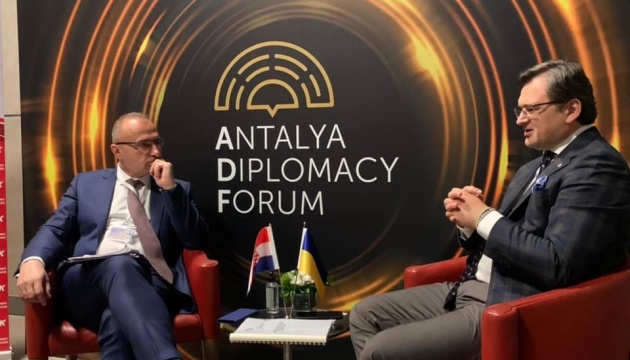 Kuleba on Crimean Platform summit: Russia will not stop us
No Russia's attempts to put pressure on individual countries to thwart the Crimean Platform summit will succeed.
"We already have enough confirmations of participation in the Crimean Platform summit to make it a successful international event. Ukraine has not hosted an event of such an international scale and level for all 30 years of independence. It will be important and bright," Minister of Foreign Affairs of Ukraine Dmytro Kuleba said in a comment to an Ukrinform correspondent on the sidelines of the Antalya Diplomacy Forum.
The minister said that he was aware of Russia's attempts to thwart the Crimean Platform summit, in particular, by putting pressure on certain countries to make them refuse to participate.
"Russia opposes the Crimean Platform, working every day to thwart this success of Ukraine. Despite all these attempts, Russia will not stop us," Kuleba said.
According to the minister, the Crimean Platform is a cross-cutting issue that is raised at every meeting he holds within the framework of the Antalya Diplomacy Forum.
"Some [representatives of] countries I will meet have already confirmed their participation, we will discuss the details of their visits. Some have not yet decided, so I will campaign for their participation in the Crimean Platform," Kuleba said.
The diplomat noted that the Antalya Diplomacy Forum was the first event of such a level held offline since the beginning of the pandemic last year.
"It offers an opportunity to meet colleagues – foreign ministers of countries not only in Europe but also in Africa, Asia, and other regions. This is a unique opportunity to discuss very practical issues, ranging from countering the pandemic and opening the borders to Ukrainian tourists, to developing trade between our countries. We are especially interested in trade with Asia and Africa. And, of course, political and security issues [will be discussed]," the Minister for Foreign Affairs of Ukraine said.
Kuleba noted that his agenda included meetings with the foreign ministers of Turkey, Poland, Georgia, Moldova, Romania, Croatia, Montenegro, Malaysia, Malta, Niger, and other countries.
ol