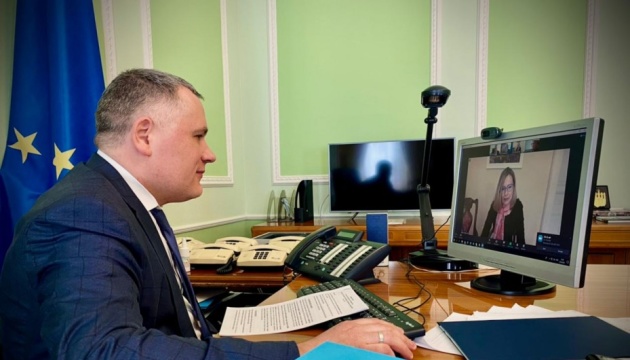 Zhovkva, adviser to Croatia's PM discuss Ukraine's Euro-Atlantic integration
Ihor Zhovkva, Deputy Head of the Office of the President of Ukraine, discussed with Vladimir Drobnjak, Foreign Policy Advisor to the Prime Minister of the Republic of Croatia, the Euro-Atlantic integration of Ukraine.
The talks focused on the results of the NATO summit held in Brussels on June 14, the President's Office informs.
Zhovkva underscored the importance of confirmation by the NATO leaders that Ukraine would become a NATO member, and the Membership Action Plan was an integral part of this process. He thanked the Croatian side for its effective support for Ukraine's Euro-Atlantic strategy and taking into account Ukraine's interests in the final communiqué of the summit.
As noted, the Deputy Head of the President's Office briefed Drobnjak on the security situation in eastern Ukraine and in the temporarily occupied Crimea.
"Ihor Zhovkva informed about daily ceasefire violations and preservation of Russia's large military contingent along the Ukrainian-Russian border," the statement reads.
The Foreign Policy Advisor to the Prime Minister of Croatia, for his part, reaffirmed the constant support of his country for the sovereignty and territorial integrity of Ukraine. He reaffirmed the readiness of the Croatian side to ensure the highest possible level of participation in the inaugural summit of the Crimean Platform in Kyiv on August 23.
The parties paid special attention to the fulfillment of Ukraine's European aspirations.
Zhovkva informed about the steps taken by Ukraine to join the European Union.
Zhovkva and Drobnjak exchanged views on the importance of providing Ukraine with clear European prospects and Croatia's further support for this path.
As reported, the NATO summit was held in Brussels on June 14 to consider ways to further strengthen the transatlantic partnership. NATO leaders reaffirmed the continuation of the open-door policy and the Euro-Atlantic aspirations of Ukraine and Georgia and called on both countries to continue conducting reforms for closer integration with NATO.
ol