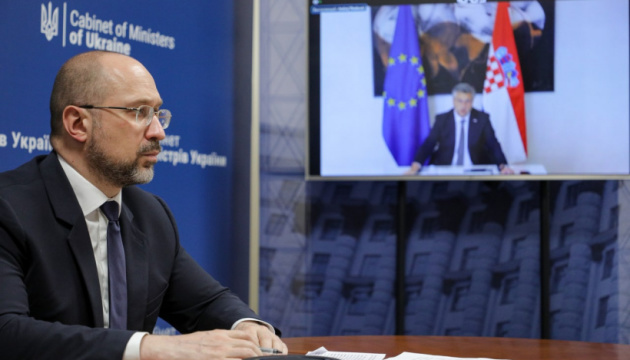 Shmyhal, Plenković discuss resumption of tourism
Prime Minister of Ukraine Denys Shmyhal and Prime Minister of Croatia Andrej Plenković discussed the intensification of economic cooperation, the development of political dialogue, and the resumption of tourism between the countries.
Their online meeting took place on June 10, Ukrinform reports with reference to the Government portal.
Shmyhal noted that maintaining a high level of active bilateral political dialogue between Ukraine and Croatia is an important component of further development of relations.
He also thanked his Croatian counterpart for accepting the offer to visit Ukraine in August and take part in the inaugural summit of the Crimean Platform.
"Your participation in the inaugural summit of the Crimean Platform and the signing of a bilateral Joint Declaration on Ukraine's European Prospect will be a powerful step towards strengthening our partnership," Shmyhal said.
The sides discussed combating the spread of COVID-19. Shmyhal noted that Ukraine is increasing the rate of vaccination of the population and expressed hope that in the near future the epidemic situation in both countries will improve significantly.
In this context, the heads of government of Ukraine and Croatia discussed the issue of resuming tourism, in particular the possibility of mutual simplification of entry for citizens.
"We expect that this summer the situation in the tourism sector will improve significantly, in particular, due to the introduction of digital certificates. Our team is currently actively working on the development of such a document in line with the EU standards. At the same time, we hope that we will be able to open borders to tourists from our countries by using other available tools," Shmyhal said.
During the meeting, they also spoke about strengthening trade and economic cooperation. The head of the Ukrainian government told his Croatian counterpart that Ukraine had taken an important step towards creating a full-fledged stock market that would open new opportunities for foreign investors.
For his part, the PM of Croatia expressed interest in the participation of Ukrainian companies in the reconstruction of infrastructure damaged by the earthquake in December last year.
Shmyhal thanked Croatia for its consistent support for Ukraine's sovereignty, territorial integrity, and European and Euro-Atlantic integration.
ish