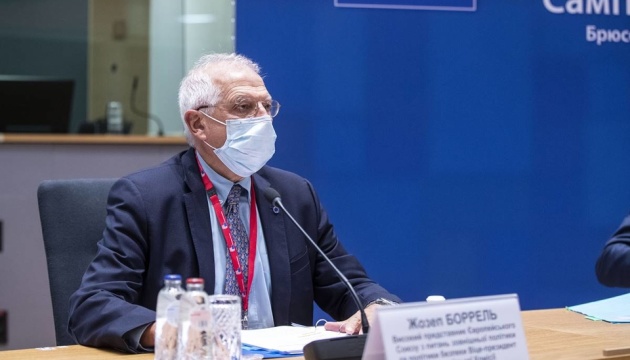 Borrell confirms his participation in Crimean Platform summit
EU High Representative for Foreign Affairs and Security Policy Josep Borrell has welcomed Ukrainian President Volodymyr Zelensky's intention to convene a Crimean Platform summit this August and confirmed his participation in the event together with European Council President Charles Michel.
He made this statement on Thursday, June 10, during a UN Security Council video conference on cooperation with regional organizations on the maintenance of international peace and security, according to an Ukrinform correspondent.
The video of his speech has been published on the EU's multimedia portal.
"I welcome President Zelensky's initiative to convene the Crimea Platform Summit; I intend to take part with President Michel and I hope there will be the widest possible participation from UN members," Borrell said.
Speaking about the importance of multilateral efforts to maintain peace and stability and the key role that the UN has to play here, he noted that the world needs global cooperation based on agreed rules. An alternative to such rules, he said, is the law of the jungle, where problems do not get solved and new ones emerge – "reduced access to vaccines, insufficient climate action, peace and security crises that fester."
"Ukraine: I regret that the situation in the country tends to be instrumentalized for political purposes here at the Security Council. To be clear: six years after all members of this Security Council unanimously supported the Minsk Agreements, little has been done to implement them. Russia is a party to the conflict and we count on it to take a constructive stance," Borrell said.
Michel stated earlier that he would represent the EU at the Crimean Platform summit in Kyiv, which will be held at Ukraine's initiative in August this year.
op