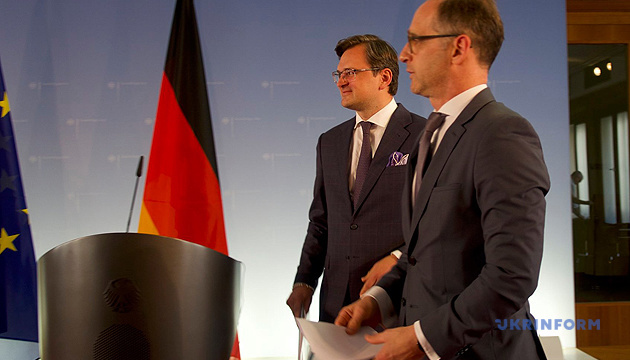 Kuleba: Germany's refusal to supply arms to Ukraine is political decision
Minister of Foreign Affairs of Ukraine Dmytro Kuleba is convinced that the German government's refusal to supply weapons to Ukraine is a political decision.
"Ukraine is a country that has been attacked and it defends itself. It does not use weapons to seize foreign territories, to kill citizens of another country in war. That is why we understand that the decision made by the German government is political," Kuleba said during a joint press conference with German Foreign Minister Heiko Maas in Berlin on Wednesday, an Ukrinform correspondent reported.
As Kuleba stressed, there is no international rule that would limit Ukraine's ability to receive or buy weapons from abroad, and there is no legal prohibition in German law that does not allow the sale of weapons to Ukraine.
At the same time, the Foreign Minister of Ukraine stressed that Germany had the right to make such decisions and thanked Germany for focusing on the political settlement of the war in eastern Ukraine.
"Germany is a sovereign state. It has the right to make decisions that it considers effective and efficient. We are grateful to Germany for focusing on the political settlement, and we sincerely hope that these efforts will allow us to stop the war and de-occupy our territories," the minister said.
At the same time, he expressed concern over possible escalation of the situation and new attacks by Russia.
"But we must be honest that if these efforts [of political settlement] do not succeed and President Putin ignores the views of Berlin, Paris, Washington, Kyiv and starts another hot phase of the war, then [we must understand that] the Russian army is armed with more modern weapons, it will attack Ukraine again, and we will defend ourselves with what we will have at that time," Kuleba stressed.
The Minister of Foreign Affairs of Ukraine expressed hope that this scenario would not happen, and "no one will ever regret that Ukraine was not helped to strengthen its defense in order to discourage Putin from attacking." The high-ranking official added that Ukraine favored peaceful and political settlement of the conflict in which according to him, Germany's support is absolutely fundamental.
As reported, on June 1, President of Ukraine Volodymyr Zelensky stated that he would like weapons from Germany to be supplied to Ukraine. German Foreign Minister Heiko Maas responded by saying that arms supplies would not help settle the conflict.
ol