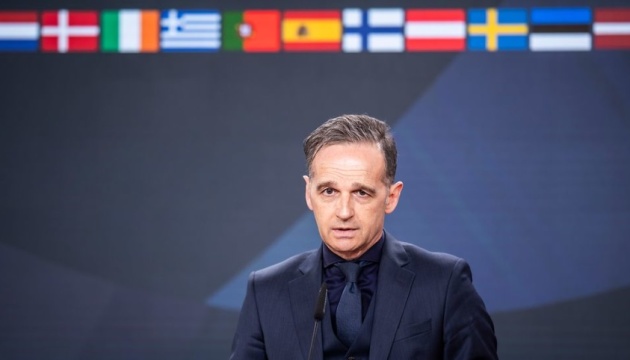 Maas: Russia is party to conflict in eastern Ukraine
The Russian Federation is a party to the armed conflict in eastern Ukraine, and it must show the best political will to achieve a peaceful settlement.
"We need political will on such important issues as stabilizing the regime of silence. To do this, first of all, Moscow must use its influence in eastern Ukraine. Moscow is a party to this conflict. And we have expectations of such Moscow's position," German Foreign Minister Heiko Maas said during a joint press conference with Ukrainian Foreign Minister Dmytro Kuleba in Berlin on Wednesday, an Ukrinform correspondent reported.
According to the German minister, a constructive approach is needed in the Normandy format negotiations. Within the framework of a peaceful settlement, it is important to demonstrate tangible progress in security and humanitarian spheres, disengagement of troops, mine action, exchange of detainees, and implementation of the so-called Steinmeier formula.
As Maas noted, Germany is concerned about the security situation in eastern Ukraine which remains unsatisfactory in recent months.
In addition, the German minister reminded of the large-scale build-up of Russian troops on the border with Ukraine in the spring. According to him, Ukraine "reacted very prudently and its actions were aimed at de-escalation." "The right way was chosen to solve this situation," he added.
Maas also encouraged Kyiv's appeal to the OSCE on this issue and assured Ukraine of support from Germany, EU, NATO, and G7.
As reported, Minister of Foreign Affairs of Ukraine Dmytro Kuleba made a working visit to Germany on June 8-9. During the visit, Kuleba held talks with German Foreign Minister Heiko Maas and held bilateral meetings with parliamentary leadership, members of the government, heads of leading political parties, and representatives of the German business community.
ol