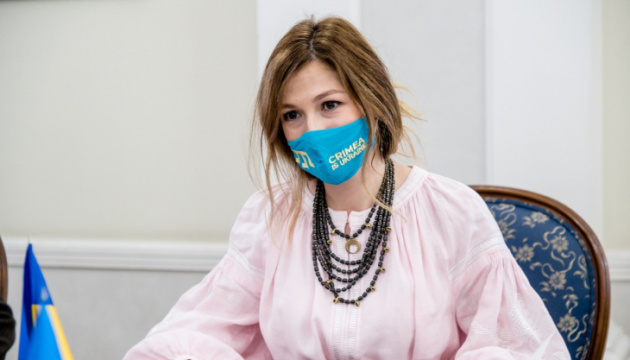 Dzheppar, EU representative talk through cooperation on Crimean Platform
First Deputy Minister of Foreign Affairs of Ukraine Emine Dzheppar discussed Ukraine-EU cooperation on initiating and further functioning of the Crimean Platform and preparation for its first summit on August 23 with Managing Director for Russia, Eastern Partnership, Central Asia, Regional Cooperation and OSCE at the European External Action Service Michael Siebert.
As the Ministry's press service reports, Siebert emphasized the EU's active support for the Crimean Platform as an important tool for strengthening international efforts to de-occupy Crimea and reaffirmed the participation of European Council President Charles Michel, European Commission Executive Vice-President Valdis Dombrovskis, and EU's High Representative of the European Union for Foreign Affairs and Security Policy Josep Borrell in the summit in Kyiv.
According to the Foreign Ministry, the parties also discussed the implementation of the EU's policy of non-recognition of Russia's attempted annexation of Crimea. In this context, Dzheppar stressed the importance of actively counteracting Russia's attempts to legitimize the occupation of the Ukrainian peninsula and the need for constant consolidation of existing restrictive measures and the development of new EU instruments on the temporarily occupied Crimea.
The parties also discussed the security situation against the background of the ongoing Russian aggression and the fight against large-scale disinformation campaigns and hybrid attacks by Russia against Ukraine and the EU.
As noted, the First Deputy Minister drew the EU representative's attention to the critical human rights situation in the occupied Crimea and called on the EU to impose global human rights sanctions regime on representatives of the Russian occupation administration.
In addition, Dzheppar and Siebert discussed further joint Ukraine-EU activities, including preparations for the Eastern Partnership summit, as well as the organization of visits of EEAS officials to Ukraine, in particular to the line of contact in the east and the administrative border with the occupied Crimea.
Dzheppar outlined Ukraine's vision of the need for a significant strategic strengthening of the Eastern Partnership, which should be developed on the basis of the principle of differentiation and taking into account the European aspirations of the associated partners. In this context, the Associated Trio initiative of Ukraine, Georgia, and Moldova was discussed as an association of EU Eastern European partners seeking membership in the European Union and a more ambitious agenda of cooperation within the Eastern Partnership. "The Associated Trio is a reality that should be reflected in the Eastern Partnership," said Emine Dzheppar.
The parties also discussed the ongoing process of mutual approval of future vaccination certificates in order to restore all the possibilities of visa-free travel.
ol