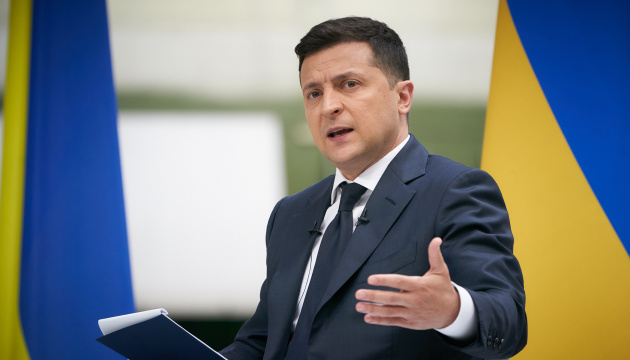 Zelensky praises cooperation with Venice Commission, its advisory assistance to Ukraine
Ukrainian President Volodymyr Zelensky has met with President of the Venice Commission of the Council of Europe Gianni Buquicchio, the press service of the head of state has reported.
According to the report, Zelensky noted the high level of cooperation with the Venice Commission and the advisory assistance it provides to the country in implementing key reforms.
"I thank you and the Venice Commission for continued support for Ukraine in building an anti-corruption system and reforming the judiciary," he said.
Zelensky briefed Buquicchio on the latest legislative steps aimed at ensuring the rule of law in Ukraine, including reforming the judiciary, constitutional justice and tackling corruption.
He noted the assistance of the Venice Commission during the crisis around the Constitutional Court of Ukraine and spoke about the efforts aimed at holding transparent and open competitions for positions in the Constitutional Court and judicial bodies, with the involvement of international experts.
"I am convinced that through joint efforts we will be able to achieve the main goal - to return to the Constitutional Court of Ukraine the role of an independent and impartial arbitrator in the law-governed state of Ukraine, where constitutional bodies make decisions exclusively within their legal powers and responsibilities," he said.
Zelensky noted the important role of the conclusions of the Venice Commission on the illegitimacy of the so-called "Crimean referendum" in 2014 and incompatibility with international law of the "inclusion" of the Autonomous Republic of Crimea and the city of Sevastopol in the Russian Federation. According to him, the principled position of the Venice Commission was an important element during the formation in 2014 of the international policy of non-recognition of Russia's annexation of Crimea.
Zelensky also emphasized the importance of the Crimean Platform initiative and the consolidation of the international community's efforts for the full de-occupation of Crimea.
For his part, Buquicchio praised the president's vision of Ukraine's European future and his desire to build an even more democratic and transparent state.
Buquicchio is on a working visit to Ukraine.
op