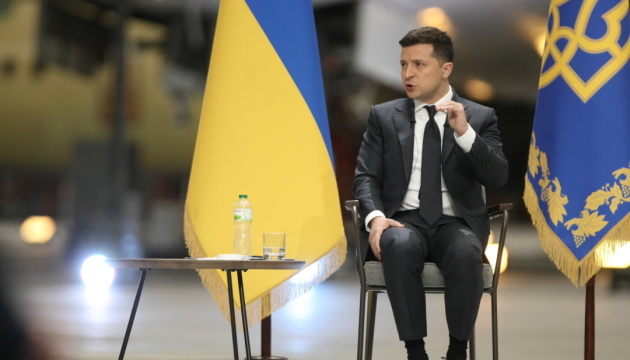 Zelensky compares Biden's decision on Nord Stream 2 with Michael Jordan's play
Ukrainian President Volodymyr Zelensky has compared U.S. President Joe Biden's refusal to impose sanctions on Nord Stream 2 AG, a company responsible for the construction of the Nord Stream 2 gas pipeline, with U.S. basketball player Michael Jordan's play.
He said this in an interview with the Axios news website, according to Ukrinform.
Zelensky named Jordan his favorite basketball player and added that it is Jordan's tactics that Biden uses in the situation with Nord Stream 2.
"That reminds me of how Michael Jordan used to play. [...] Even Michael Jordan very often used to lure his opponent, sometimes by demonstrating pretend weakness or even signs of illness. He had a variety of secret tricks for making his opponent feel relaxed and for imposing his own tactics onto him, imposing the false sense of close victory. And then Jordan would change his tactics dramatically, and he would grab the victory at the very last minute. […] Therefore I still believe after all, that Biden is a Jordan in politics," Zelensky said.
He added that he would like to believe that this is all part of Biden's tactics. "If this is not the case, that will be a great pity, not only for me, but for the United States as well, I am sure. There will be a feeling that in these circumstances Russia will have a great chance to prevail over the United States," Zelensky said.
He stressed that he was surprised by Biden's decision not to hinder the completion of the Nord Stream 2 gas pipeline project, which Ukraine sees as a serious threat to its national security. Zelensky added that he had learned about the decision from the media and called Nord Stream 2 "a weapon in the hands of the Russian Federation."
Zelensky also said he was ready to meet with Biden before his summit with Russian President Vladimir Putin on June 16.
"I understand that due to the U.S. President's pre-existing plans and his tight schedule they [consultations] might well not happen, but that choice will be only his to make. As the guarantor of the Constitution of Ukraine, I myself am ready to defend Ukraine at any moment and at any spot of the planet, I am ready to meet with him and discuss all those details before his meeting [with Putin]. I am sure that some sort of contact between us, in that form or another, is quite possible," Zelensky said.
President Biden's administration has reportedly refused to extend sanctions against companies building a controversial gas pipeline between Russia and Germany.
The United States will also suspend sanctions against the head of Nord Stream 2 AG and Putin's ally, Matthias Warnig, a former officer of the Stasi.
op