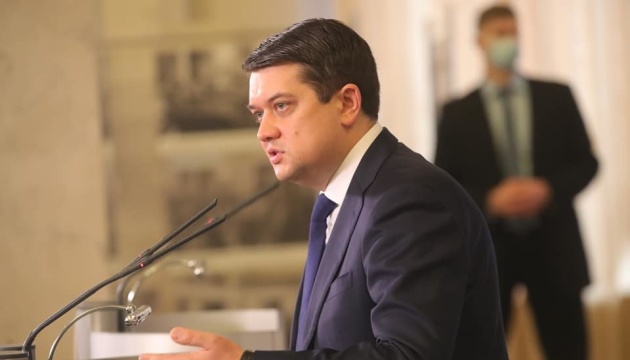 Razumkov: Ukraine, Slovakia have significant potential for developing relations in number of areas
Ukraine and Slovakia have significant potential for developing relations in a number of areas, as well as intensifying inter-parliamentary cooperation.
"We very much appreciate the relations that are developing with the Slovak Republic. I hope that they will only deepen at the level of the governments of our countries, at the level of presidents and, of course, the level of parliaments," Verkhovna Rada Speaker Dmytro Razumkov said during a meeting with the delegation of the Slovak Republic led by Prime Minister Eduard Heger, the Parliament's press service informs.
He praised the constructive dialogue between the friendship groups of the Verkhovna Rada of Ukraine and the National Council of the Slovak Republic.
"I hope for a closer relationship at the committee level. And I would be especially pleased to see closer relations at the level of the parliamentary leadership," Razumkov added.
The Verkhovna Rada Speaker underlined the importance of cooperation with neighboring countries in the West.
"Taking into account Ukraine's position on integration into the European Union and NATO, we are building friendly relations not only at the level of parliaments but also at the level of other institutions with Western countries – those neighbors with which we have a common border," Razumkov said.
The parties also discussed the need to strengthen economic cooperation between Ukraine and Slovakia, in particular, to create conditions for attracting investment.
According to Razumkov, the economy is one of the key aspects of cooperation.
"Despite COVID-19, the economic downturn around the world, the economic crisis, I'm sure we need to focus on attracting investment and building economic relations with our immediate neighbors," he said.
In addition, the meeting participants discussed the prospects of defense cooperation between the two countries.
"Today, the Ukrainian army is one of the most combat-effective in Europe. This is the only army that has the experience of such a full-scale war in its territory and can share this experience. We got it at a high price, and we continue to pay it," said Razumkov.
In turn, Prime Minister of the Slovak Republic Eduard Heger assured of the support for the sovereignty and territorial integrity of Ukraine, as well as on the path to integration into the European Union. He also considers useful cooperation between Slovakia and Ukraine, in particular, in energy, industry, culture, and investment attraction.
As reported, Prime Minister of the Slovak Republic Eduard Heger makes an official visit to Kyiv on Friday, May 28.
ol